Media Release
Friday, 30 July 2010 16:22
Swan Hill, Pinnaroo, Murray Bridge, Wilpena Pound, Broken Hill, Quilpie, Charleville, Injune, Taroom, Chinchilla, Dalby, Stanhope and Glen Innes.The memories of the foundation of Australian Motor Sport are set to be rekindled when the names of Brabham and Repco come together in support of the 22nd Kidney Kar Rally, which starts on Friday 13 August 2010 at Swan Hill.
Sir Jack and Lady Margaret Brabham with the BT19 racing car.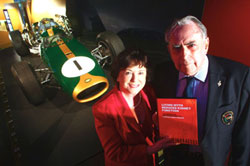 Sir Jack Brabham OBE, a dialysis patient, and Lady Margaret Brabham, Patrons of Kidney Health
Australia
, today welcomed the news that Repco has become a major sponsor of the event. Matthew Brabham, Sir Jack's grandson, 16 years of age and an up and coming racing car driver is a Youth Ambassador for Kidney Health
Australia
.

Sir Jack Brabham, a triple world champion, is the only Formula One driver to have won a world title in a car bearing his own name - the BT19 -powered by a Repco engine which he drove to victory in 1966.
Sir Jack and Lady Margaret praised the efforts of the teams in the charity Kidney Kar Rally, which over its 21 years
has raised
millions of dollars to assist Kidney Health Australia carry out its important work supporting thousands of people with kidney disease and staging special Kidney Kids Camps to provide children with kidney disease a special holiday with their peer group.
With the slogan 'Performance-testing your kidneys will help keep your kidneys in top gear' this year the Kidney Kar Rally will commence at the Swan Hill Pioneer Village travelling through Victoria, South Australia, Queensland and New South Wales, with a field of forty seven vehicles over nine days, covering some 4800 kilometres.
Cars involved in the Kidney Kar Rally will stage a street parade through Swan Hill on Friday 13 August at 3.30pm culminating in a community barbeque at Repco's Swan Hill store.
Anne Wilson, CEO and Managing Director of Kidney Health Australia said the annual Kidney Kar Rally provides a unique opportunity to 'Make A Noise About The Silent Killer' by urging all people in the high risk areas such as those over 50, those who are obese, smokers, people with diabetes, those with high blood pressure or from an indigenous background to have their kidneys checked.  
Ms Wilson said the support of Repco is a major boost to the Kidney Kar Rally and will assist us spread the message on the prevention on Chronic Kidney Disease through regional and country Australia.
Media Enquiries:
Ron Smith, National Media Communications, Kidney Health Australia Mobile: 0417 329 201