Media Release
Thursday, 17 June 2010 15:21
Impact on their family can include financial, sexual relationships and long term depression.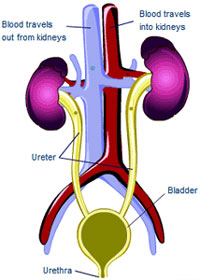 Structure of the Kidneys in the body
Have a regular kidney check for the sake of your family is the message for Australian men from
Kidney Health Australia
. Australian males are being placed onto dialysis at a rate 154% higher than women.
Anne Wilson, CEO and Managing Director of Kidney Health Australia said the reluctance of men to talk about health issues and see their GPs for a regular check up can have a major impact on their family including financial, sexual relationships and long term depression.
"What we are saying to Australian men is that Chronic Kidney Disease (CKD) can be detected with a simple test and it is treatable."
Ms Wilson said CKD, which contributes to the deaths of 50 people every day in Australia, is known as the silent killer because people can lose up to 90% of the use of their kidneys before feeling sick. Regular checks are vital in detection and treatment.
Dr Tim Mathew, Medical Director of Kidney Health Australia said Australian men are being accepted onto dialysis programs at a rate 154% higher than women according to latest figures. In Australia in 2008, 1503 men and 973 women started dialysis.
"Men at high risk of Chronic Kidney Disease should request regular kidney checks when they visit their GP in the same way people are now conditioned to ask for checks for prostate cancer, heart disease, blood pressure or diabetes."
Dr Mathew said that given the overall population in Australia where the sex ratio is about equal it is surprising to see such a large difference in the acceptance rate. The gap has been steadily widening over the last 25 years with the increase in men undertaking dialysis rising from 53% in 1982 to the current 61% with the increase occurring in men at all ages.
"The gender issues identified in CKD and all of its stages will need to be addressed as part of future health planning and the provision of dialysis services which are expected to double to 20,000 by 2020 with an ageing population."
Media Enquiries:
Anne Wilson, CEO & Managing Director, Kidney Health Australia
Mobile: 0400 165 391
Dr Tim Mathew, Medical Director, Kidney Health Australia Mobile: 0416 149 863
Ron Smith, National Media Communications, Kidney Health Australia
Mobile: 0417 329 201