Media Release
British Flying Ace to be Honoured at Amputees Golf Day in Australia as part of UN International Day of the Disabled
Wednesday, 02 December 2009 00:00
The inspirational exploits of British Flying Ace Douglas Bader, who lost both legs in air crash on  14 December 1931 and who fought bureaucracy to rejoin the RAF as a fighter pilot in 1939, will be celebrated on the eve of the United Nations International Day of the Disabled on 2 December 2009.
The celebration will take place in Melbourne at a special golf day for amputees at Sandhurst Club, south east of Melbourne, which has developed special golf clinics for amputees.  
Douglas Bader Amputee Golfer in Full Swing
A keen golfer Bader continued to play after losing his legs and his life story became internationally known through the 1954 film "Reach for the Sky" where his character was played by British actor Kenneth Moore.
Ron Smith, a spokesman from Sandhurst, said
a historic tiger moth will make three passes over the first fairway and Clubhouse at 12.00 noon in honour of Douglas Bader before the start of the Sandhurst Red Gum Classic with amputee golfers.  

 




Melissa Noonan, Executive Officer of Limbs 4 Life said the memories of the exploits of Douglas Bader, who passed away in September 1982, will be an inspiration to everyone with a disability and those who are playing on the day.   

A special Douglas Bader Cup will be awarded on the day to the nearest to the pin golfer.   

"There are over 200,000 amputees across Australia and Limbs 4 Life is moving to expand an amputee golf clinic program established by Sandhurst Golf Professional Christian Hamilton with the support of the PGA Learning Centre."

Ms Noonan said the purpose of these clinics is to provide amputees with the tools required to become involved with golf and have the confidence to participate. 

"The benefits of the amputee golf clinics are twofold; firstly golf is a wonderful sport for people living with a physical disability, more so amputees; as it enhances and challenges balance, assists with flexibility and aids core stability while promoting general well being."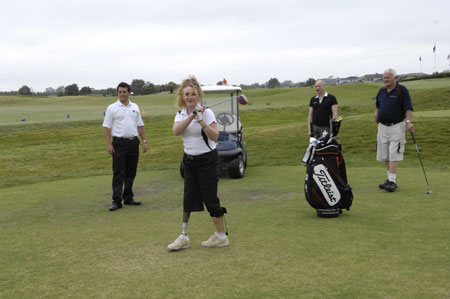 Melissa Noonan, Executive Officer, Limbs 4 Life hitting off under the watchful eye of Sandhurst Pro Christian Hamilton, responsible for developing the Amputee Golf Clinics.
The Sandhurst Red Gum Classic will be staged on Wednesday 2 December 2009 on the eve of the International Day for the Disabled at Sandhurst Club.
For details visit
www.limbs4life.com
Media Enquiries: Melissa Noonan Limbs4Life Mobile: 0402 036 735 
Ron Smith Sandhurst Club (03) 9818 5700 Mobile:  0417 329 201