Media Release
Monday, 18 March 2013 14:26
Tyranny of distance is no challenge to golfers from Sandhurst Club in south east Melbourne taking part in one of the most unusual golf contests with two teams from the Club playing against each other twelve thousand kilometres apart in the Sandhurst China Challenge.

Sandhurst Club Golf Professional Christian Hamilton is hosting a trip to the largest golf club in the world, the Mission Hills Golf Club in Shenzhen China, where a group of 26 members will play 5 courses over the week at the 216 hole complex that makes up the Mission Hills Golf Club.
The Sandhurst China Challenge will be played on Thursday 21st March commencing at 10.30am at the prestigious Olazabal Course, home of the World Cup and the European Tours richest event the HSBC Champions Tournament.

Christian Hamilton from Sandhurst Club at Mission Hills
Christian Hamilton said, "At the same time our Sandhurst Members will be playing in their weekly midweek Thursday competition, our Sandhurst / China Challenge will take 26 pre-registered Sandhurst Club members playing at Sandhurst Club and our 26 members playing the Olazabal Course and create a live competition between the two venues."
"The technology with the competition management systems allows us to enter scores in China and appear live in the Clubhouse leader boards at Sandhurst some 12,113kms away simultaneously as our Sandhurst members enter their scores."
Mr Hamilton said the winning team with the highest combined Stableford score will win the Sandhurst China Challenge Cup. A trophy that will remain at Sandhurst for future trips to play for.
"It is also planned, given the close time difference, to have a Skype link to Sandhurst Club for the day's presentations."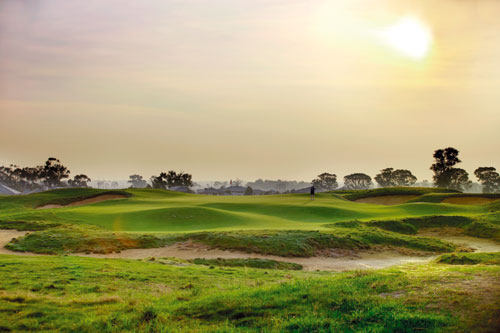 The Champions Course at Sandhurst Club



This is the second year of the Sandhurst Club journey to Mission Hills Golf Club and the Sandhurst China Challenge will become part of the annual pilgrimage to the largest golf course in the world each March.
The Sandhurst China Challenge will be played on Thursday 21st March commencing at 10.30am (EST) in China and commence at 12.00 pm at Sandhurst with results being logged on the leader board at around 4.00pm.
Media Enquiries:
Ron Smith, Corporate Media Communications, Sandhurst - Mobile: 0417 329 201