Media Release
Thursday, 28 February 2013 15:02
Sandhurst Club, one of Melbourne's prestigious golf clubs with over a thousand members, has crowned a 14 year old schoolboy as its 2013 Senior A Grade Sandhurst Golf Club Champion.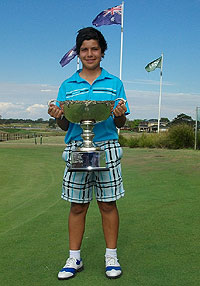 Matias Sanchez 
Matias Sanchez, a year 9 student at Flinders Christian College, commenced playing golf at Sandhurst Club in 2008 at nine years of age following a period at Woodlands as a six year old. Matias is now coached by PGA Professional Marty Joyce.
Matias is an experienced matchplay player, being the youngest in the history of Golf Victoria Colts Pennant at the age of 9. Since 2008 from the age of ten, Matias has remained undefeated in matchplay contests.
With over 130 trophies already to his name and an extensive record of achievements in golf, including being in the Victorian State Team of Primary Schools for 3 years consecutively, and winning the Primary Schools Championship in 2010, Matias is well on his way to become a future Australian champion.
In 2011 Matias joined the Golf Victoria High Performance Junior Squad.
Father and Caddy, Arnaldo Sanchez said, "The win this year followed two years of Matias not being able to compete in the club championship because of fitness issues, but Matias had worked hard to prepare himself for this year's event".
Mr Sanchez said, "Setting his sights on becoming a professional golfer began early when at eight years of age in 2007 Matias was invited to play in the Victorian Open Pro Am, mixing with the professionals."
Golf Captain Bruce Luchterhand, Sandhurst Golf Club Men's Captain today congratulated Matias saying his achievement in winning the Sandhurst Club Championship is a great example of determination and dedication of a young person and the important role of Junior Golf at Sandhurst Club.
Matias Sanchez's other achievements
First 12 year old boy to win the U14 Victorian Boys Championship in 2010
U14 Winner of Junior Championship of Victoria in 2011
Sandhurst B Grade runner up in 2011
11 times U16 Junior Classic winner with tournament record Golf Victoria Colts
Pennant undefeated player in 2012
Media Enquiries:
Ron Smith, Corporate Media Communications, Sandhurst Club - Mobile: 0417 329 201