Media Release
Wednesday, 27 April 2011 16:14
Badly Dressed golfers at one of Melbourne's prestige golf courses, Sandhurst Club, raised over $14,326 for the Royal Children's Hospital in the 6th annual BAD PANTS INVITATIONAL. 
The BAD PANTS INVITATIONAL is Sandhurst Club's Charity Day for the Royal Children's Hospital Good Friday Appeal, sponsored by Sandhurst Club who donated the course for the day.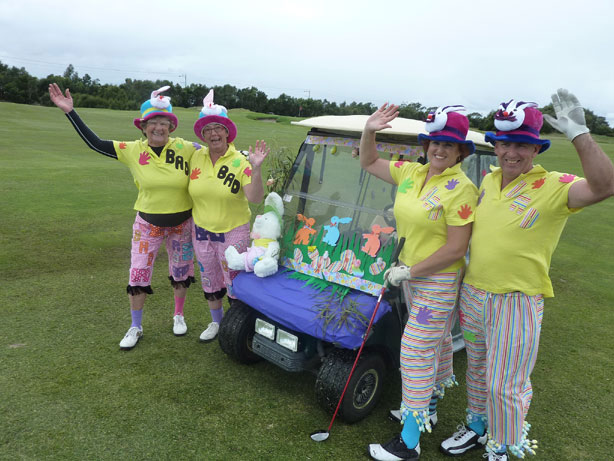 Best Presented Team - Left: Pam Walker, Anne Madigan, Joanne Disher and Max Disher.
BAD PANTS INVITATIONAL Co-coordinator Peter Maher said the bad pants dress code was strictly enforced to ensure the high quality of the event that had been undermined a couple of years ago when a few golfers turned up well dressed.
"We were impressing on all players in the BAD PANTS INVITATIONAL that subdued colors such as beige shirts and tee shirts were not on and course stewards were wanting to see bright garish colours such as combinations of yellow, red, fluro pink, and bright purple to uphold the quality of the presentation of the event.
"Prizes were awarded to the Best Presented Team and the Best Dressed Individual who was Badly Dressed.

"Unusual outfits are encouraged. One year we had a women's team dressed as Easter bunnies with fluffy pink tails that confused local wildlife as well as other golfers."
Mr Maher said that the BAD PANTS INVITATIONAL also had a strong environmental theme with many of the players of past events recycling their old shirts, blouses and pants which had gone out of fashion to comply with the dress standards of bad taste.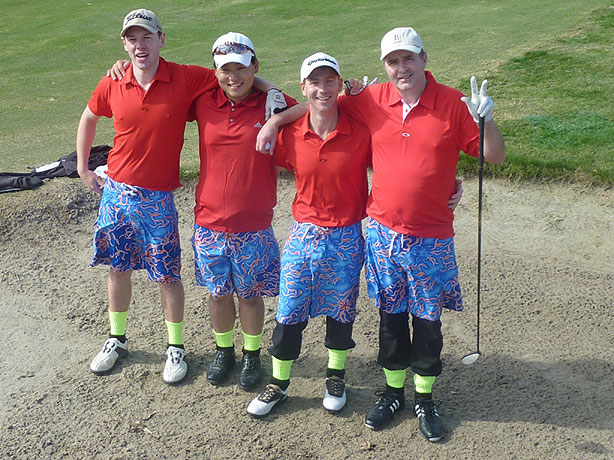 Bad Pants Invitational Results The Winners. 54.875. Left: Tony Mclean, Dennis Im, Peter Mitchell, Brad Williams.
These guys from Drummond Golf Nunawading won their prizes and then handed them back to be auctioned and
raised another $800.00 for the day.
As another grand gesture they had won the bets for the day and contributed another $450.00 to the fund
Media Enquiries:
Ron Smith, Corporate Media Communications, Sandhurst Club Mobile: 0417 329 201