Media Release
Monday, 22 November 2010 14:44
The 4th Annual Otto Bock Victorian Amputee Golf Championship 2010.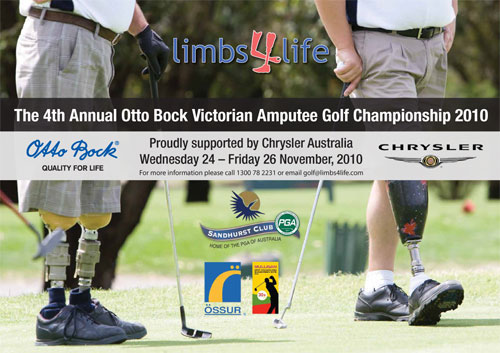 Media Advisory

12.00 noon Wednesday 24 November 2010

Limbs 4 Life Victorian Amputee Golf Championship
Sandhurst Club, Sandhurst Boulevard, Sandhurst
A briefing, driving and putting demonstration will be held prior to the start of the tournament, which will also outline how golf is being used in the rehabilitation of people who have lost limbs.
The current Australian Amputee Open Champion Shane Luke who plays off and incredible 2 on just one leg, (Shane believes that his prosthetic leg interferes with his ability to drive the ball over 280 metres) will defend his title at the 4th Annual Otto Bock Victorian Amputee Golf Championship at the home of the PGA - Sandhurst Club.
Executive Director of American Amputee Golf double below knee amputee Bob Wilson, who is travelling to Australia with a fellow marine buddy Don Bigler to contest the event.
Amputee golfers from New Zealand and other states of Australia will take part in the event Limbs 4 Life in conjunction with Christian Hamilton, the PGA Professional from Sandhurst Club, and the PGA have run a golf program specifically for amputees over the past two years.
Melissa Noonan, Executive Officer of Limbs 4 Life says the event is never just about golf. "Lifelong friendships are formed by people who have all been through the trauma of limb loss".
The peer support element is a huge component of getting people back out and about to help them regain their independence. It is partly the reason that Limbs 4 Life was awarded the national honour of being named the winner of the National Disability Social Inclusion Award in 2009.
Media Enquiries:
Ron Smith, Sandhurst Club - Mobile: 0417 329 201