Media Release
Wednesday, 06 October 2010 11:02
Land buyers have spent a record $14.4 million in the last month purchasing 53 allotments at Sandhurst Club, Melbourne's first private master planned and managed suburb. 
Only 100 lots now remain on the multi-award winning project developed by Links Living Limited, a Melbourne based company which specialises in large scale master planned golfing residential communities.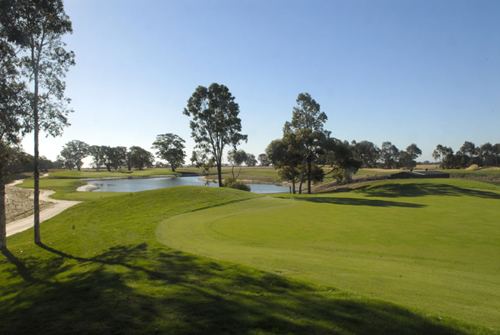 Sandhurst Club
Gaining planning approval in August 2000 and commencing work in March 2002, the suburb of Sandhurst pioneered recycled water becoming Victoria's first drought proof suburb and was the first suburb to introduce fibre optic telecommunication services to every home.
In 2008, Sandhurst received two prestigious UDIA awards for Environmental Excellence and the Best Landscape Design.
Paul Phillips of Sandhurst Club attributed the outstanding success of the project to the unique combination of a golf and residential environment where 50% of the project is dedicated to open space and features two championship 18 hole golf courses, lakes and manicured parklands which are kept lush and green all year round with recycled water even during the drought.
"The dramatic difference Sandhurst offers residents' is that it is privately managed with a range of services and facilities that provides an enviable lifestyle and importantly protects the value of people's investment.
"Residents of Sandhurst enjoy the major facilities such as the Clubhouse including restaurant and bar, health club, swimming pool, tennis courts, recycled water, high speed internet and a range of community activities."
"Our higher quality of lifestyle and environment has placed a real focus on Sandhurst Club which on current trends could sell out in the very near future."
"EastLink has put Sandhurst within easy reach of Melbourne and the employment centers in Melbourne's eastern and south eastern suburbs."
"The Sandhurst residential environment is unique and given planning constraints and the lack of land, there will never be a project such as this built again with so much open space and extensive high quality environmental infrastructure," Mr Phillips said.

Sandhurst Snapshot
1350 residential lots ranging in size from 300m2 to100m2 with 135 island lots
Two 18 hole Peter Thomson designed Championship Golf Courses
Golf and Residents Clubhouse
Golf driving range and PGA Academy
PGA National Headquarters - Home of the PGA
Health Club with indoor swimming pool, steam room, aerobics room and gymnasium
Tennis Courts
Up to 50km of golf buggy, walking and cycling tracks integrated with residential housing and a series of connected recreational parks.
Twenty four hour home monitoring security
Restaurant and bar

Sandhurst Club, 75 Sandhurst Blvd, Sandhurst - Melways Ref 128 D7
Sandhurst Land Sales Office: Paul Phillips (03) 8787 7666
Media Enquiries:
Ron Smith, Corporate Media Communications, Sandhurst - Mobile: 0417 329 201