Media Release
Friday, 04 June 2010 00:00
Sandhurst Club has reported record land sales this year on the prestigious golfing residential development in the south east of Melbourne with thirty blocks sold in the month of May.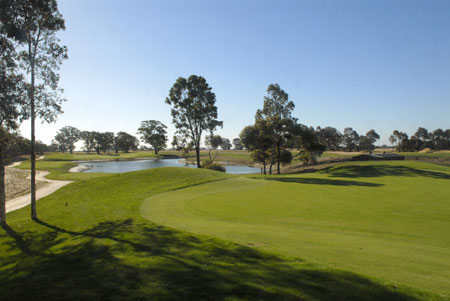 Sandhurst Club North Course
Paul Phillips, Sales Manager of Sandhurst said the rush to purchase at Sandhurst is being fuelled by the scarcity of land in the premium category and the fact that we are now releasing some of the last stages at Sandhurst, which is 85% sold out.
"Land in the new Heritage release is priced from $251,000 for traditional lots and from $292,000 for golf front land.
"In the trade up market where people are moving from traditional suburbs to Sandhurst, we are selling at record rates. 50% of Sandhurst is manicured green open space featuring two eighteen hole golf courses, a health club and golf clubhouse, and is drought proof through the provision of recycled water.
"People are finding they can take advantage of high current house prices to trade up to a better lifestyle environment at Sandhurst where residents have access to their own clubhouse, swimming pool, restaurants, over 50 kilometres of walking and cycling tracks and a residential environment free from major traffic," Mr Phillips said.
Mr Phillips said EastLink provides Sandhurst residents with easy access to the City and the employment corridor to the east of Melbourne.
"Sandhurst's high speed fibre optic and broadband network is up to a hundred times faster than normal broadband and residents get cheap phone calls to all capital cities which are capped at 60 cents per half hour. A bonus for people, especially those residents who run a business from home.
Sandhurst is selling its final stages and people interested in building a new home in a premium environment should make their enquiries before Sandhurst Club is sold out.
Sandhurst Club, 75 Sandhurst Boulevard, Sandhurst - Melways Ref 128 D7
Sales Centre open 9.00am to 5.00pm Daily
Sandhurst Land Sales Office: Paul Phillips (03) 8787 7666
Media Enquiries:
Ron Smith Corporate Media Communications Sandhurst (03) 9818 5700 Mobile: 0417 329 201