Media Release
Thursday, 15 October 2020 11:14
Women's employment in the Trades has remained at less than 2% over 25 years
Mature women, aged up to 35 years, are being urged to consider a career in the trades in the wake of the reported job losses in Australia, averaging 3,500 a month since March 2020. The recent report from the Institute of Public Affairs says that 607,000 private sector employees lost their jobs between 14 March and 5 September 2020.*1

Fiona McDonald
Managing Director
Tradeswomen Australia
Managing Director of Tradeswomen Australia, Fiona McDonald said many of these jobs being lost are in retail, hospitality, and office work, which employ a substantial number of women across Australia, and have been decimated in the COVID-19 pandemic.
"We are urging women to take advantage of the Federal Government's $1.2 billion budget commitment to fund 50% of apprentices wages for one year and consider the opportunity to break into a well-paid trade career with valuable skills.
"The COVID-19 recovery 'shovel ready' projects provide a substantial opportunity for Federal and State Governments to address and promote the employment of tradeswomen and careers in the trades to schools."
Ms McDonald, said the Federal Government budget announcement provides a major opportunity to increase the number of women apprentices /trainees in the core trades of carpentry, automotive and electrical, which has remained at less than 2% for over twenty-five years.
Currently the National Skills Needs List (2019) lists 65 trades that are experiencing national skills shortages. Of those, 62 can be classed as male-dominated trades; only 3 could be classed as female-dominated.
Ms McDonald said the economic benefits of employing women should not be overlooked with the Grattan Institute in 2012 finding that if there was an extra 6% of women in the workforce, we could add up to $25 billion, or approximately 1%, to Australia's Gross Domestic Product. * ²
The Barriers
"Without immediate and significant change to remove the barriers for women to gain employment in traditional trades, a growing number of women in Australia will continue to face financial hardship and a greater risk of homelessness during retirement.
"The battle for women to gain employment in the traditional trades starts with the lack of information and encouragement at school level which is compounded by the existing male dominance across the trades in Australia," Ms McDonald said.
References:
* 1 The Institute of Public Affairs Policy Report 'Economic Scars: How the lockdowns have permanently disfigured the Australian economy'. Cian Hussey, Kurt Wallace 11 October 2020
* ² Towards 2025 An Australian Government Strategy to Boost Women's Workforce Participation
Media Enquiries:
Ron Smith, Media Communications, Tradeswomen Australia – Mobile: 0417 329 201
His n Hers Automotive Solutions

Kilsyth, Victoria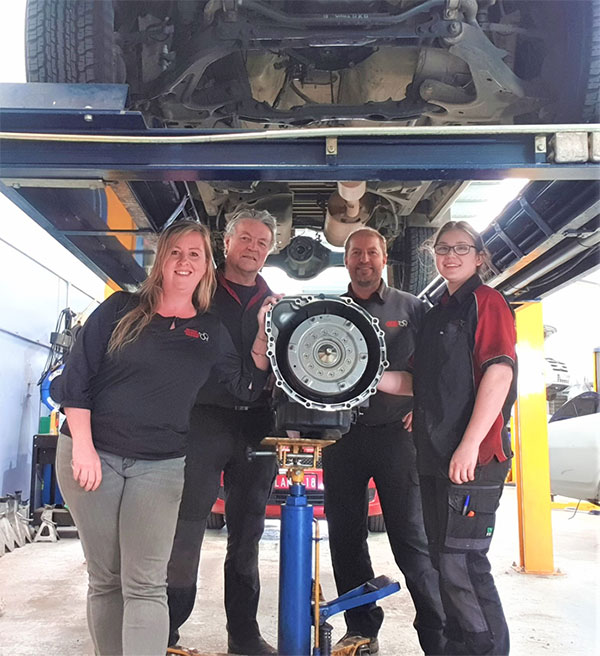 In the workshop
L/R Caroline Langan-Minca, Stuart Kent, Craig Minca, and apprentice Janine Nudl.
Caroline Langan-Minca began her automotive career 21 years ago, when she started her mechanical apprenticeship at Mazda. Once qualified, she remained 'on the tools' for 2 and a half years, but also worked as a Service Advisor and in Sales. Being one of two female mechanics in a team of 12, Caroline identified a need in the market for women to be able to communicate their mechanical needs to a female mechanic.
Caroline then became the National Fleet Maintenance Manager of Repco Ltd, controlling all maintenance and repairs around Australia on Repco's fleet of 1200 executive and delivery vehicles, and 500 forklifts.
From Repco, she then went to MotorOne, as the Victorian Electronics and Logistics Manager, organising aftermarket accessories (such as Bluetooths, alarms, cruise controls etc) to be fitted to vehicles at dealerships across the State.
Caroline and her husband, Craig Minca, who started his career in the automotive industry 23 years ago, when he began his apprenticeship in North Melbourne resulting in gaining extensive experience on a wide range of cars new and old, now run their own automotive service centre aptly named His n Hers Automotive Solutions, in Kilsyth.