Media Release
Monday, 07 September 2020 15:02
..less than 2% of women have been employed in core trades for over twenty-five years.
The employment discrimination against women in the core trades of carpentry, automotive and electrical, which has remained less than 2% for over twenty-five years, has been listed as a major issue for the COVID-19 Recovery Strategy.
Fiona McDonald, Managing Director of Tradeswomen Australia, said the National Skills Needs List (2019) lists 65 trades that are experiencing national skills shortages.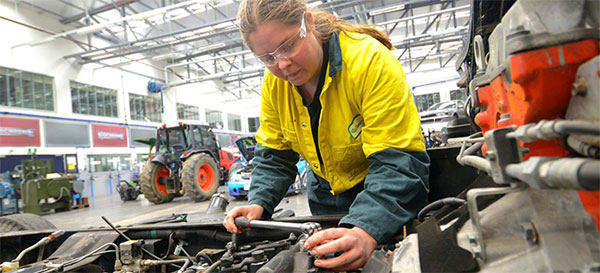 "At the same time, in the core trades, women historically are being discriminated against through lack of information and encouragement.
"As part of the COVID-19 Recovery Strategy, which will see a record number of major projects costing billions of dollars being rapidly rolled out, addressing the historical discrimination against women being employed in the trades should be acted on potentially through contract requirements."
Ms McDonald said, "It is important that organisations, companies and government agencies take proactive action in encouraging and employing more women in the trades.
"There is also a need to implement a national program in the secondary school system to make girls aware of the potential trade careers which are available for women," Ms McDonald said.
Barriers to increasing the number of women employed in the trades have been identified as:
a) Lack of information and engagement about trade with career advisors and secondary school girls
b) Poor workplace culture and social misconception make trades unattractive as a career path
c) No structure support systems for women working in male-dominated trade industries.
The COVID-19 emergency has focused the trades and companies on necessary health conditions and strategies that need to be applied in the workplaces and should improve the quality of amenities on work sites including the provision of toilets allocated for women.
Ms McDonald said Tradeswomen Australia has launched a national awareness campaign on the issue and is already working with a range of major companies and government departments to encourage a greater awareness of the contribution women can make to the trades area within the Australian economy.
"Currently more women are considering a career in the trades but it is often hard for them to break through the barriers of first getting an apprenticeship and then gaining full time employment," Ms McDonald said.
Footnote:
Ms McDonald was advised by her school's career teacher she would not be able to be a motor mechanic. After a year of university, she quit and took up a successful career as a motor mechanic as an apprenticeship became available at the garage next door to the café where she was working.
Media Enquiries:
Ron Smith, Media Communications – Mobile: 0417 329 201