Media Release
Wednesday, 05 August 2020 10:04
Tradeswomen Australia Backs Government's COVID-19 Strategies
Tradeswomen Australia today said it is vital to support the Federal and Victorian Government's strategies against coronavirus and has welcomed the Government's support for apprentices and employees.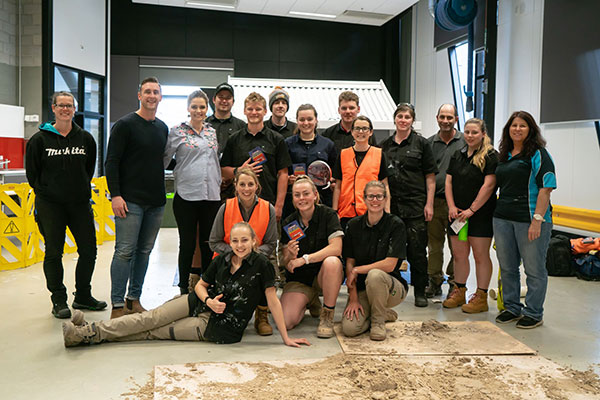 Fiona McDonald, Managing Director of Tradeswomen Australia said it is important to protect apprentices from the loss of their apprenticeships, or having them interrupted for a long period, which may result in them forfeiting their chosen career as they are forced to pursue work in other areas.
"Apprentices who have partly completed their training and qualifications have made a big investment in their future and it is important they are given the opportunity to complete their qualifications."
Ms McDonald said tradespeople and apprentices out of work or impacted by the work interruptions are also encouraged to register for Tradeswomen Australia's 'Operation Protect and Preserve'.
Tradeswomen Australia will be providing one on one support to help workers get back into the workforce, access financial support and address concerns relating to redundancy.
"A range of events will be available on the website to address ongoing concerns from apprentices and supporting mental health, safety and resilience during these distressing times."
Ms McDonald said the current national environment on many levels is incredibly stressful and it is vital to recognise that mental health will become an increasing issue. RUOK? is an important question to ask if you believe a colleague or workmate is struggling.
The Tradeswomen Australia Operation Protect and Preserve apprentice action sheet listed:
1. REGISTER – On the Apprentice displacement portals
2. FINANCIAL SUPPORT – Check what Financial support is available
3. REDUCE YOUR BILLS – Get your budget under control
4. UPDATE YOUR RESUME – List all your experience
5. USE SOCIAL MEDIA- Reach out you to friends and acquaintances
6. NETWORK – Make a list of relevant contacts
7. APPLY - Go to Tradeswomen Australia Job's Portal and register.
8. LOOK AFTER YOURSELF – These organisations provide free services to support you
Register for 'Operation Protect and Preserve' on the Tradeswomen Australia website – www.tradeswomenaustralia.com.au
Ms McDonald said the organisation would also promote the use of the Australian Government's Coronavirus app to assist apprentices and their families remain safe and provide life saving information whilst also helping the tracing detectives save lives.
<![if !supportLists]>· <![endif]>· stay up to date with the official information and advice
<![if !supportLists]>· <![endif]>· important health advice to help stop the spread and stay healthy
<![if !supportLists]>· <![endif]>· get a quick snapshot of the current official status within Australia
<![if !supportLists]>· <![endif]>· check your symptoms if you are concerned about yourself or someone else
<![if !supportLists]>· <![endif]>· find relevant contact information
<![if !supportLists]>· <![endif]>· access updated information from the Australian Government
<![if !supportLists]>· <![endif]>· receive notifications of urgent information and updates
Coronavirus Australia app
Stay up to date with official information and advice about the coronavirus (COVID-19) situation. You can check your symptoms and get notified when urgent information and updates are published.

Media Enquiries:
Ron Smith, Media Communications, Tradeswomen Australia – Mobile: 0417 329 201