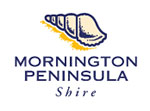 Media Release
Monday, 06 August 2018 16:30
Mornington Peninsula Shire Council
The combination of successful tourism and farming on the Mornington Peninsula that underpins the employment of thousands of Victorians was highlighted this morning with the launch of 'A Taste of Mornington Peninsula'.
The campaign was launched on the steps of the Victorian Parliament by the Mornington Peninsula Shire Council with local farmers, vegetable growers, wine and cheese makers, brewers, tourism operators and apprentice chefs with a display of produce from the Mornington Peninsula.
The launch of 'A Taste of Mornington Peninsula' on the steps of Parliament House
Cr. Bryan Payne, Mayor of Mornington Peninsula Shire Council said the severe drought conditions across large areas of Australia are a stark reminder of how important it is to protect our farming communities and the sustainability of agriculture across the country.

"A Taste of Mornington Peninsula' campaign highlights the importance of protecting the Mornington Peninsula Green Wedge which has bipartisan political support because of the vital role its unique environment plays in underpinning both tourism and agricultural activity.

"Agricultural production within the Mornington Peninsula Shire generates more than $1.1 billion in total value per year. Around one third of the land on the Mornington Peninsula is devoted to agricultural production."

Cr. Payne said over 7 million visitors annually come to the Mornington Peninsula to experience wine and food from 500 registered food hospitality venues with hospitality being one of the region's largest employers, employing over 4,400 people.


Click here to listen to Mornington Peninsula producers
"The tourism and agricultural sectors of our local economy provide a wide range of employment opportunities and sustainable jobs in the future.

"It is important to create a wider awareness both locally and internationally of the year-round attractions and tourism experiences including the growing farm gate Agri-tourism sector.

"Mornington Peninsula Shire is located within the Port Phillip and Westernport Catchment Management Region, the second largest agricultural region in Victoria, producing at least 15% of the total wealth generated from the State's agricultural industry from less than 4% of the state's farm land.

A special Mornington Peninsula certified trade mark, developed by Mornington Peninsula Shire and its Food Industry Advisory Body, continues to help consumers confirm the provenance of fresh produce produced in the Mornington Peninsula Shire when buying from the farm gate, farmers' markets and retail outlets.

The Mornington Peninsula's key food producing industries are vegetables, poultry, grapes and wine, livestock and seafood.

Cr. Payne said many small to medium growers and artisans take advantage of local markets to sell direct to consumer. The more than 25 farm gates scattered across the hinterland reduce distribution costs and deliver higher returns for many of these micro-small businesses.

The Mornington Peninsula also is a world-renowned wine region with over 50 cellar doors producing for the domestic and international markets.

A new magazine Found, a publication by the Mornington Peninsula Regional Tourism Board for residents and visitors, was also released to increase the awareness of the Mornington Peninsula tourism experience all year round.

The Mornington Peninsula Green Wedge has a total area of 51,204 hectares (512 km2), which comprises approximately 70% of the area of the Shire. It contains several important bushland reserves including Point Nepean National Park, Mornington Peninsula National Park, Arthurs Seat State Park, and the Devil Bend Park, as well as wetlands that are recognised by several international treaties, notably the Ramsar agreement.

Many of the landscapes of the Green Wedge are classified by the National Trust and provide significant opportunities for outdoor and unstructured recreation that makes the Peninsula one of Victoria's most visited regions.

Being part of the Mornington Peninsula, it is unique among Melbourne's Green Wedges in being close to the coast of Port Phillip Bay and Western Port.

There are a wide range of agricultural enterprises conducted in the Green Wedge including beef cattle grazing, large scale horticulture, broiler chicken farming and wineries.

Media Enquiries:
Ron Smith, Mornington Peninsula Shire Council - Mobile: 0417 329 201