Media Release
Freemasons Foundation Victoria Limited Boosts Think Pink Supporting Blokes In Regional and Country Victoria
Thursday, 15 March 2018 12:36
Think Pink and Freemasons Foundation Victoria Ltd
The Think Pink Foundation Supporting Blokes Program has received a major boost with a $36,950 grant from Freemasons Foundation Victoria Limited.
Irene Hendel OAM, Founder and Patron of the Think Pink Foundation, said "the Supporting Blokes Program was developed by the Think Pink Living Centre in 2013 to support men - partners, adult sons, siblings, family, and friends who have direct supportive roles to women with breast cancer.

"The generous support of the Freemasons Foundation Victoria Limited will enable this innovative program to be available to other men supporting women after diagnosis of breast cancer who reside in Victorian regional and country areas.
"The program will be delivered with the support of Freemasons Victoria and the Men's Shed."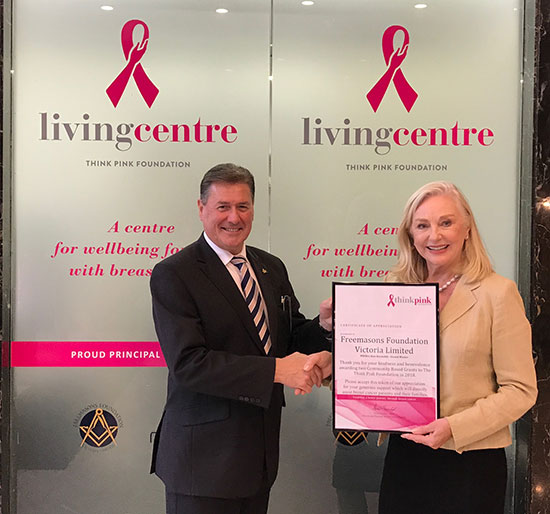 Presentation of the Certificate of Appreciation to MWBro Don Reynolds, Grand Master of Freemasons Victoria
and Freemasons Foundation Victoria Limited from Irene Hendel OAM, Founder and Patron of the Think Pink Foundation.
Don Reynolds, Grand Master of Freemasons Victoria said "Our sponsorship of the Supporting Blokes Program was in recognition of the many issues faced by partners and family members supporting partners with breast cancer.
"Freemasons Victoria through Freemasons Foundation Victoria Limited has been a long term and significant supporter of the Think Pink Foundation for several years."

The Men's Shed, with 27,000 members across Victoria and 329 Sheds, has become one of Victoria's most important organisations providing both men and women the opportunity to establish social connections at local levels and to participate in wider community health and charitable programs across the State.
Andrea Cannon, Think Pink's Senior Breast Care Nurse said the new program aimed to extend the reach of the current Supporting Blokes Program based at the Living Centre in Melbourne which has been successfully operating over the last five years.
The new rural-based program will develop a mutual-aid, peer support program and delivery network and will continue to operate through local health, community networks in the years to come. This unique program also supports men to develop positive strategies for lasting self-care and resilience.
Ms Cannon said, "Whilst high quality medical care and diagnostic technology is generally available to metropolitan residents, this is not always the case in rural and outlying areas requiring some patients to travel to Melbourne or major cities to receive their treatment.
"Practical and psychological support services relating to breast cancer are not as readily available in regional Victoria compared with metropolitan Melbourne.
"There are even fewer resources available for males supporting women with breast cancer - many of whom are also very much affected by a diagnosis and many of whom are economically compelled to stay at home while patients receive their treatment."
The grant will be applied to design, implement and evaluate a purpose-specific program of seminars, workshops and group counselling sessions in seven rural locations across Victoria including:
The Mornington Peninsula
Eastern Gippsland (Bairnsdale)
Inner Gippsland (Warragul)
Goulburn Valley (Shepparton)
Central Highlands/Goldfields (Bendigo)
Inner Western District and Surf Coast (Geelong)
Outer Western District (Warrnambool)

Breast Cancer Statistics
In 2017, it is estimated that 17,586 women and 144 men were diagnosed with breast cancer.
On average, 48 people will be diagnosed with breast cancer every day. The number of women and men being diagnosed with breast cancer in Australia is increasing; however, the number of deaths from breast cancer is decreasing.
Breast cancer is the most common cancer diagnosed in Australian women and accounts for 28.3% of all new cancers in Australian women in 2017.
The risk of being diagnosed with breast cancer by age 85 is 1 in 8 for women and 1 in 631 for men.
Breast cancer can occur in younger women. It is estimated that 841 women between the ages of 20 and 39 will be diagnosed with breast cancer in 2017. This accounts for 4.7% of all breast cancers diagnosed in Australia.

Media Enquiries:
Ron Smith, Chairman, Think Pink Foundation - Mobile: 0417 329 201