Media Release
Friday, 20 January 2017 10:54
Freemasons Victoria and the Freemasons Foundation
The Freemasons Foundation Victoria has announced that its annual Statewide Scholarship awards for 2017 are open and available for students around the Victoria.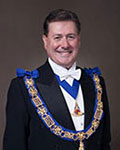 Don Reynolds


Grand Master Freemasons Victoria
Grand Master of Freemasons Victoria Don Reynolds said the Freemasons' Scholarship Program, with a hundred year history, has supported the development of leadership, community involvement and academic excellence across Victoria.
"Each year the Freemasons Foundation Victoria Limited grants over $400,000 in Scholarships, Awards and Bursaries for academic excellence or for students requiring financial support to complete their studies.
"Over the past ten years $3 million has been allocated to students throughout Victoria in metropolitan, regional and country areas."
There are 3 categories of Scholarships and Awards available this year with a closing date of 31 January 2017.

The available scholarships and awards are:
Tertiary Entrance Scholarships and Awards (including Music)
Secondary Scholarships and Awards
Mature Age Scholarship
The range of scholarship awards include:
Freemasons Foundation Victoria Scholarship
Freemasons Foundation Victoria Post-Secondary Education Award
Environmental Scholarship
Harry Burt Memorial Architecture Scholarship
The Roy Alderton Business Finance Scholarship
Post-Secondary Civic Award
Dr. Robin Gray Music Scholarship
Eliezer Benedykt Memorial Scholarship in Music
Bill Burrell Memorial Piano Accompaniment Scholarship (not restricted to entry level)
SECONDARY SCHOLARSHIPS AND AWARDS

Secondary Scholarships and Awards are available to students who are studying at a Secondary School in 2017.

Apply online at https://freemasonsfoundation.smartygrants.com.au/
Applications Close on 31 January 2017.
Media Enquiries:
Ron Smith, Freemasons Victoria - Mobile: 0417 329 201