Media Release
Friday, 26 June 2015 06:38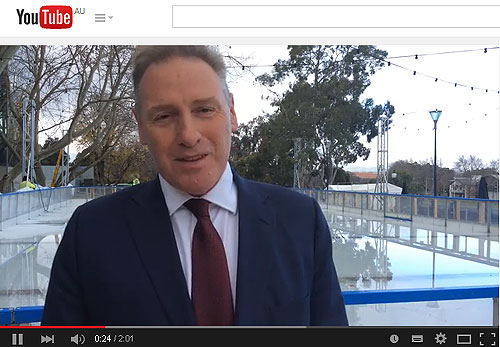 Ron Gauci, CEO Fed Square announces ice skating.
Click here for the interview on YouTube.

Holding sparklers, the skaters will create a spectacular vision of moving light skimming across the ice to officially open the ice skating rink at Fed Square.
Ron Gauci, CEO of Fed Square said "The introduction of ice skating for families at Fed Square during the school holidays will provide many parents with an opportunity to introduce their children to the magic of ice skating and create memorable experiences in Melbourne's iconic Fed Square."
The Momentum Energy River Rink at Fed Square will be open daily from 10.00am to 10.00pm with skating beginning on Saturday 27 June from 10.00am.
"We are also looking to cater for Melburnians and groups who wish to enjoy the pleasure of having a skate during lunchtime or after work and the increasing number of people living in the city."
A daily highlight will be the ice skating demonstrations at 12.45pm and 5.45pm from the Medibank Icehouse figure skating team.
Mr Gauci said the Big Screen at Fed Square will take a direct video feed from the Momentum Energy River Rink at Fed Square, with skaters appearing on screens across the site allowing for interaction with other visitors to Fed Square. "This will enable photos not only to be taken rink side but also larger than life appearances to be recorded from the Big Screen, and we expect many people to be using their mobile phones to capture the excitement and fun of ice skating."
Momentum Energy River Rink at Fed Square
10.00am to 10.00pm 27 June 2015 to 19 July 2015
River Terrace, Fed Square
45 minute sessions starting on the hour
Costs and Booking Details at www.fedsquare.com.au/riverrink

Media Enquiries:
Ron Smith, Fed Square Corporate Media Communications - Mobile: 0417 329 201