Media Release
Wednesday, 27 May 2015 14:02
The Light in Winter
program in 2015.
In its second year, KIGA, is the major private award for glass artists in Australia and was won last year by New South Wales artist, Robert Wynne.
Peter Kolliner OAM, Gallery Director of Kirra Galleries said, "The KIGA first prize of AU$15,000 will be awarded for the best internally lit glass sculpture and this year there will also be an award of AU$3,000 for the most innovative entry. The prize winners will be announced at 6.30pm during the opening ceremony on Monday 1 June 2015."
Releasing the KIGA catalogue, Mr Kolliner said, "This year's exhibition continues to display the world class standard of young and emerging glass artists, along with a solid representation of established artists who have built the foundation of glass art in Australia."
This year's KIGA exhibition will showcase 42 shortlisted works from the 80 entries across Australia and New Zealand. The winner will be selected by the judging panel of Peter Kolliner OAM, Grace Cochrane AM, Simon Warrender, Ms Jane Sydenham-Clarke and Robyn Archer AO.
"In Australia, we are fortunate to have an established group of world class glass artists and an emerging pool of new talented artists,"
Mr Kolliner said. "Kirra Galleries was the first commercial tenant to open in Fed Square, and represents over one hundred and forty Australian Glass Artists. The Gallery has been a centre of excellence for Glass Art for the past twelve years in its current location".
"Kirra Galleries has a deliberate charter to actively promote world class Australian glass art in all of its forms, both in Australia and internationally, with our attendance over the past eleven years at the international exposition SOFA (Sculpture Objects and Functional Art) in Chicago, USA," Mr Kolliner said.
Click here to view the Catalogue of Works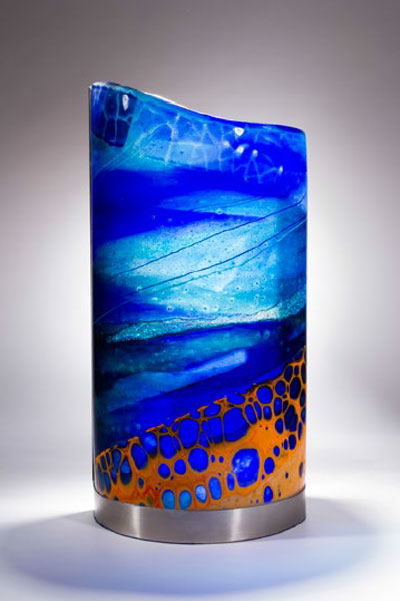 Displacement-Deep Water by Silvana Ferrario
Media Enquiries:
Ron Smith, Media Communications, Fed Square - Mobile: 0417 329 201