Media Release
Wednesday, 22 April 2015 15:58
On Anzac Day the Big Screen at Fed Square will provide a day long collection of photographs and comments from across Australia through a special project initiated by the Australian War Memorial.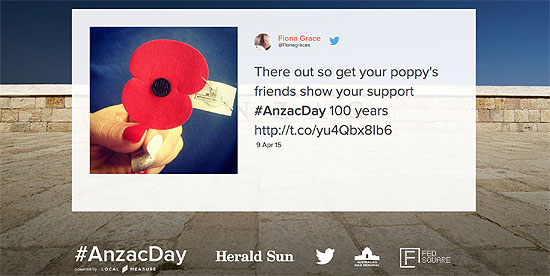 On the Centenary of the landing at Gallipoli, the Australian War Memorial is marking the moment in history by collecting a digital record of what people are thinking and feeling as they commemorated the ANZAC Centenary.
Twitter users can share photos or videos of their commemorative activities with the #AnzacDay hashtag on 25 April 2015.
All Tweets will be collated and saved into the digital archive and stored at the Australian War Memorial in Canberra.
Fed Square in Melbourne is also hosting the 5000 Poppies project (now actually 250,000 poppies) - a stunning display field of crocheted poppies created by volunteers and is encouraging visitors to the Square to Tweet their images of the display to the Australian War Memorial collection and families and friends across the world.
Media Enquiries:
Ron Smith, Corporate Media Communications, Fed Square - Mobile: 0417 329 201