Media Release
Monday, 29 December 2014 00:00
Lamine Sonko and The African Intelligence rehearses for Fed Square's
New Year's Eve
Click here to view on YouTube
Federation Square will be illuminated in a kaleidoscope of colour on New Year's Eve with visitors asked to wear their brightest whites or boldest colours to welcome 2015 aglow by the specially-installed UV lighting.
Jane Sydenham-Clarke, Fed Square spokesperson said, "Throughout the night, visitors will learn a dance choreographed by Lamine Sonko and The African Intelligence and at the stroke of midnight, the band will lead the crowd in an en-masse dance to their popular track, Light and Shine.
Ten thousand specially designed wrist bands in a range of colours, which will glow under the UV lights, will create a spectacular sea of waving hands during the evening and the countdown to midnight and the fireworks.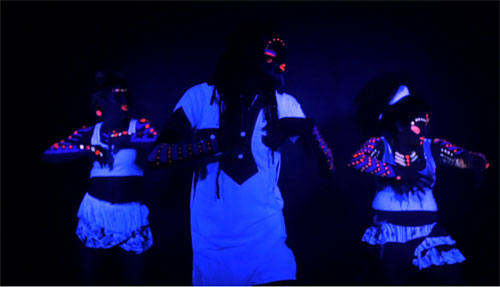 This will be a unique visual community moment in the heart of Melbourne and we are keen to have it embedded on the internet for worldwide exposure of Melbourne and Fed Square, often referred to as the People's Square, at the start of 2015".
The entertainment line-up by Multicultural Arts Victoria includes: 15-piece Cook Islands band Sounds of Polynesia; singer/dancer Neda Rahmani in Neon Rhythm Myth Masters; 10-piece African drum ensemble Wassawumba; tropical tribal band Congo Tardis #1; the Ethiopian Circus Trio and the soulful sounds of West Africa from Lamine Sonko and The African Intelligence.
The entire event will be broadcast live on the Internet from Fed Cam http://www.fedsquare.com/events/fed-cam/
Fed Square Twitter Tag 'fedsquare new year 2015'
Media Enquiries:
Ron Smith, Corporate Media Communications, Fed Square - Mobile: 0417 329 201