Media Release
Friday, 13 June 2014 12:19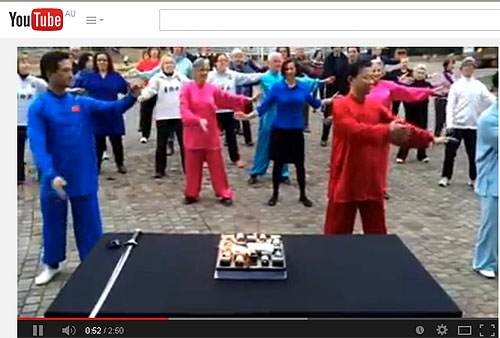 This morning Tai Chi Australia's Chief Instructor, Han Jin Song conducted a special Tai Chi class and performed the exercises to 'Happy Birthday'. Han Jin Song was assisted by the Chair of Fed Square, Catherine Walter AM, in blowing out the candles and cutting the cake with the ceremonial sword, to celebrate holding over 1000 free Tai Chi classes at Fed Square.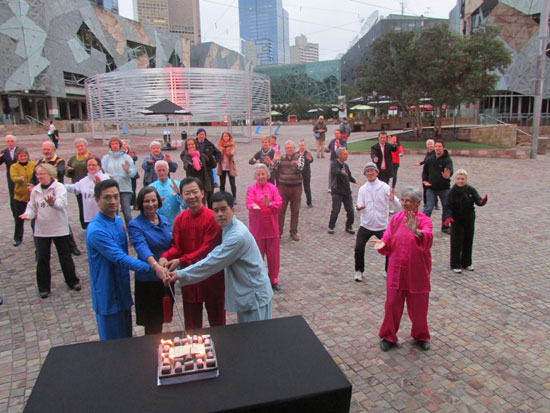 Cutting the 10th Birthday Cake - Chair of Fed Square, Catherine Walter AM, with
(left) Professor Li Rensong, Han Jin Song and Professor Ma Yongzhi
This morning's class also had two guest performers - Professor Ma Yongzhi from Qing Hua University and Professor Li Rensong from Xia Men University, who have travelled from China to join the celebrations.
In April 2013, Safe Work Australia released its first report on work-related mental stress and its associated costs based on an analysis of Australian workers' compensation claims data from 2008-09 to 2010-11, finding the loss of productivity and absence of workers is costing Australian businesses more than $10 billion per year.
The report also found more professionals make claims for mental stress than any other occupation. A third of these claims are due to work pressure.
Han Jin Song said, "Tai Chi, the Chinese martial art that promotes health and relaxation is conducted by expert instructors from Tai Chi Australia every Tuesday morning in the Main Square with participants able to watch their activities on the Big Screen.
"Tai Chi, or Taijiquan in Chinese, is an outstanding gem of traditional Chinese culture that is valuable in promoting health, developing combat and self-defence skills, and improving concentration and overall well-being.
"Health benefits are derived from the Tai Chi's slow, gentle and tranquil movements which enable harmony in mind and body, improved mobility, suppleness and mental alertness. The benefits are well recognised by practitioners of Traditional Chinese Medicine (TCM) who are frequently Tai Chi instructors themselves and recommend the art as the physiotherapy of TCM.
"Anyone regardless of age or level of fitness can practice and benefit from Tai Chi."
The Tai Chi classes require no bookings and are part of the Health and Well Being program that is being blended into Fed Square's daily operations for some of the ten million visitors to Fed Square annually.
Media Enquiries:
Ron Smith, Corporate Media Communications, Fed Square - Mobile: 0417 329 201