Media Release
Monday, 16 December 2013 13:45
Large numbers of Melbourne's African Community attended the Nelson Mandela Tribute at Fed Square and St Paul's Cathedral.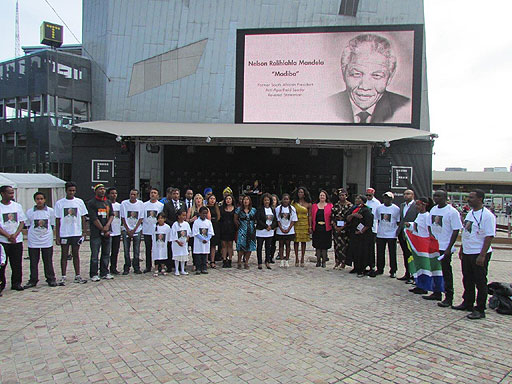 The Valanga Khoza Choir singing the South African National Anthem at Fed Square..
The Tribute was held on Sunday evening to coincide with Nelson Mandela's Funeral in Qunu, the Nobel Peace Prize laureate's rural hometown in Eastern Cape Province.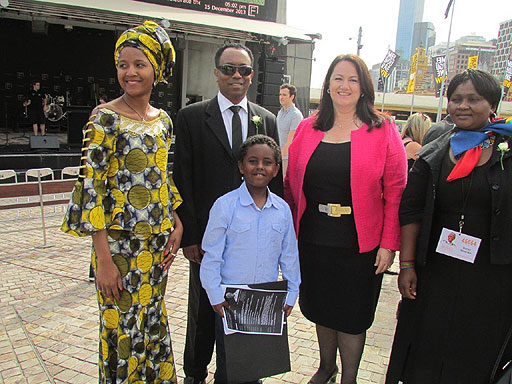 Dee Ryall MP, Member for Mitcham, representing the Victorian Government,
with members of the Nelson Mandela organising committee at Fed Square.
A Thanksgiving Service was held at St Paul's Cathedral and then the tribute moved to Federation Square where images and speeches of Nelson Mandela were played on the Big Screen. This included vision of Nelson Mandela's visit to Melbourne.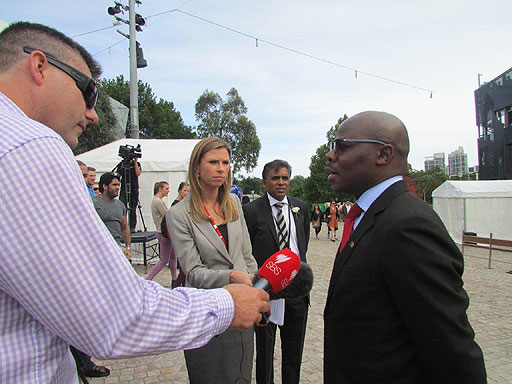 The South African Acting High Commissioner, Raymond Sithole being interviewed at Fed Square.
Jane Sydenham-Clarke from Fed Square said following the singing of the Australian and South African national Anthems by the Valanga Khoza Choir and speeches by dignitaries, the African community celebrated the life of Nelson Mandela with vibrant musical and cultural performances including African drumming and dancing.
Media Enquiries:
Ron Smith, Corporate Media Communications, Fed Square - Mobile: 0417 329 201