Media Release
Tuesday, 22 October 2013 13:12
Fed Square in Melbourne is offering its Big Screen to send a message of support to the community of New South Wales and promote giving through the major charities running appeals.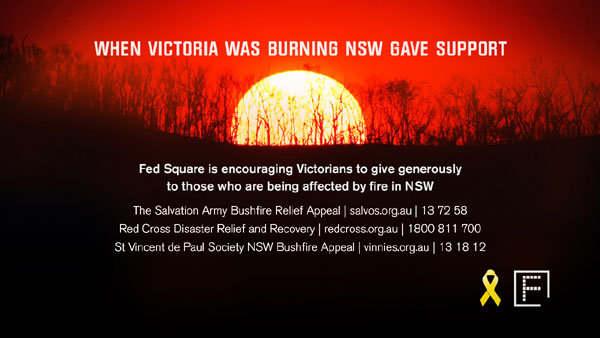 Jane Sydenham-Clarke from Fed Square said communities from New South Wales and other States rallied to support Victoria during the 2009 Black Saturday bushfires and it is now our turn to rally in support of the communities in New South Wales that are under attack by major bushfires.
Representatives of charities gearing up to help in the wake of the disaster, members the emergency services and the community will gather at Fed Square at 12.00 noon Friday 25 October for the launch of the Big Screen campaign and to collectively show their support for New South Wales at its time of need.
Ms. Sydenham-Clarke said, "We Are Thinking Of You' is the simple message from the rally."
SMS or Tweet your Messages of Support to NSW Community and Firefighters to the Big Screen from Today
SMS your message to 0428 520 347. Tweet your message with #FedSquareSupports.


Media Alert
12.00 noon Friday 25 October 2013

We Are Thinking Of You 
Melburnians Rally for New South Wales

Federation Square Centre Stage
Media Enquiries:
Ron Smith, Corporate Media Communications, Fed Square - Mobile: 0417 329 201