Media Release
Wednesday, 09 October 2013 11:11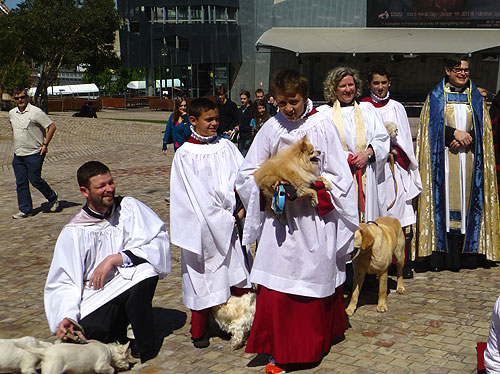 St Paul's Cathedral preparing for the Blessing of the Animals
Melburnians who want to acknowledge the companionship and emotional support their pets provide are invited to Fed Square and take part in the Blessing of the Animals at 5.00pm.
Jane Sydenham-Clarke from Fed Square said the special Blessing of the Animals is also an opportunity to acknowledge the great contribution many animals play working in the community such as Guide dogs, Customs dogs and Police dogs.
"Importantly pets play a major role in family lives by providing companionship and encouraging healthy exercise."
The Archbishop The Most Reverend Dr. Philip Freier said, "I invite you to join us as we celebrate together the friendship of all God's creatures at the blessing of animals. Blessing God's creation is a longstanding Christian tradition that encourages us to take good care of all creatures and the world around us".
At the blessing Associate Professor Elizabeth Tudor, Veterinary Science Faculty, University of Melbourne will speak. The Choir of St Paul's Cathedral will sing songs giving thanks to creation.
Fed Square - Blessing of the Animals

5.00pm Thursday 10 October 2013
Fed Square - Main Square Stage
Media Enquiries:
Ron Smith, Corporate Media Communications, Fed Square - Mobile: 0417 329 201