Media Release
Tuesday, 03 September 2013 10:44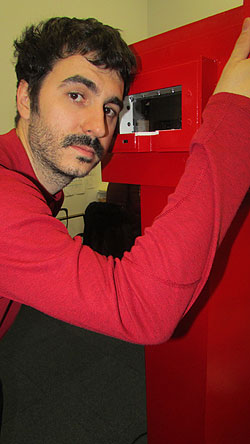 Mar Canet Sola with the Binoculars at Fed Square 
Binoculars to Binoculars a new art installation at Fed Square, by international Artists Varvara Guljajeva and Mar Canet Sola, connecting people to a number of cities in a unique and extraordinary way.
When you look through the binoculars, instead of seeing the scene physically in front of you, you are able to see a panoramic view of an iconic location from around the globe in real time.
At the same time, each pair of eyes peering into the binoculars will appear on large screen in these iconic locations including Fed Square's Big screen. Hence, the inhabitants of the other connected city will see your huge-scale, searching eye looking at them whilst the eyes of people in the other cities will be shown on the screen at Fed Square.
Canet Sola and Guljajeva work using new forms of art, exploring the playfulness of expression which technology can provide. They apply and challenge technology and traditional production methods in order to explore novel concepts in art, often using computer programming, hardware design and research to create interactive new media installations and projects.
As a duo their works have been exhibited in a number of international shows and festivals and they have been selected for numerous artist residencies.
This project is part of the European urban media network Connecting Cities, initiated by Public Art Lab (Berlin), which aims to create an exchange between urban activists, creatives, passers-by and city inhabitants from all over the world via media facades and large digital screens.
Please note the binoculars are not always connected to other cities, when this is the case, your eye will be visible on the screen above you, instead of in another city.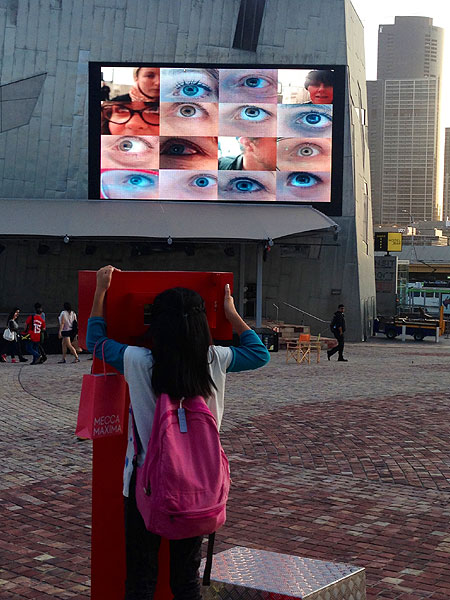 World Schedule  
The installation will be connected on the following days between 5.00pm and 8.00pm 
Madrid 22 August until 14 October
Melbourne 3-6 September; 9-13 September; 17-18 September
Linz 5 September - 14 October
Dessau 6-7 September
Berlin 6-7 September
Riga 7-9 September
Brussels 4-5 October
Liverpool 2 September - 14 October
Media Enquiries:
Ron Smith, Corporate Media Communications, Fed Square - Mobile: 0417 329 201