Media Release
Tuesday, 27 August 2013 15:16
The 'Place in the City' award acknowledges the "unique impact that Federation Square has made on our City, its people and its visitors. It reflects more than an iconic building. It is a recognition of the imagination, passion, professionalism and commitment of those who have made Federation Square a great 'Place for Melbourne".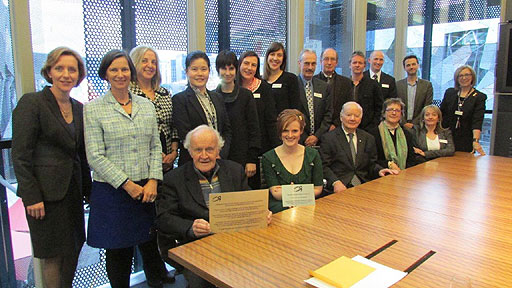 Fed Square Board members and staff with Martin Carlson and Kevin Luscombe from the 
John Truscott Foundation following the presentation of the 'Place in the City' award.
The award was presented to Fed Square Management and staff on Monday evening at Federation Square by members of the foundation including Martin Carlson and Kevin Luscombe.
Kate Brennan said, "The award was recognition of the vision and commitment to create Fed Square and the work of the management teams who supported the creative and community events. These events have made Fed Square one of the most popular places for Melburnians and international visitors to meet and enjoy creative activities".
About the John Truscott Foundation Award
John Truscott was a revered designer with an extensive international career.
The Foundation "honours the work of Truscott as a Theatre designer, Academy Award winning film designer and festival director. John Truscott changed the way Melbourne saw itself and the way the rest of the world viewed Melbourne. As an enduring tribute to the aspirations and achievements of John Truscott, the John Truscott Design Foundation is dedicated to uphold, encourage and promote creative design".
Media Enquiries:
Ron Smith, Corporate Media Communications, Fed Square - Mobile: 0417 329 201