Media Release
Wednesday, 24 July 2013 12:22
Sir William Dargie Honoured on the 10th Anniversary of his Death
12.00 noon Friday 26 July 2013
In the Artists Footsteps
Sir William Dargie inducted into Federation Story
Federation Square, Main Square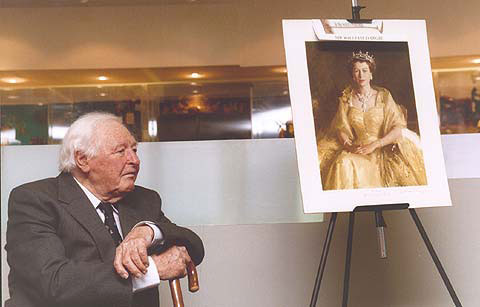 Sir William Dargie at the launch of the Dargie Collection 
See the Collection of Works
The contribution of Australia's most decorated Archibald Prize winner and official war artist in the Second World War, Sir William Dargie, is set to be remembered on the tenth anniversary of his passing this week at 12.00 noon Friday 26 July 2013 at Fed Square in Melbourne.
Sir William Dargie's life story will be released on Federation Story, the digital time capsule of Federation Square which records and makes available stories of Australian lives to future generations.
A small easel carried by Sir William Dargie, Australia's official war artist, into many areas of conflict as he drew and painted Australian soldiers will take centre stage at the special ceremony in Fed Square.
Sir William Dargie's works will be broadcast onto the Big Screen following the playing of the Last Post and Reveille by Corporal Andrew Barnett of the Australian Army Band Melbourne. Andrew MacKenzie, prominent art historian and Sir William Dargie's biographer, will speak at the launch.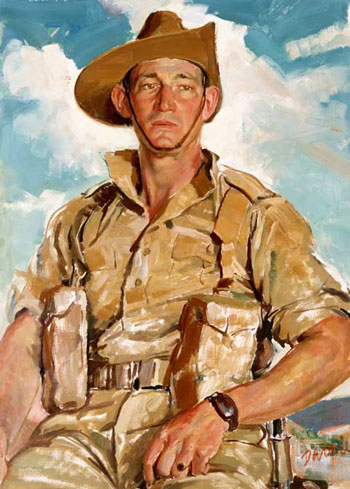 1942 William Dargie - Corporal Jim Gordon, V.C.
"'Dargie won the 1942 competition with a painting of Corporal Jim Gordon V.C. At the time he was official war artist and was stationed in the Middle East and in New Guinea for part of the twelve months preceding the award. Furthermore, the work was painted in Syria, where Gordon won his V.C. by silencing a Vichy machine-gun post. The ship bringing the portrait back to Sydney was sunk and the painting spent some time under water." 
Works by Sir William Dargie are held in the National Gallery of Australia Canberra, in all State Galleries, and in the regional Galleries - Castlemaine, Benalla, Bendigo, Geelong, Mildura, Perth University, University of Melbourne and University of Sydney.
An estimated 600 works are in the collection of the Australian War Memorial, Canberra, and there are further works held in institutional and private collections throughout Australia and overseas.
Sir William Dargie worked on many commissions, including the portrait of H.M. Queen Elizabeth II, H.R.H. The Duke of Edinburgh, H.R.H. The Duke of Gloucester, Princess Alexandra and her mother and The Princess Royal.
1954 William Dargie - Her Majesty Queen Elizabeth 11
"Within a very short time of Dargie completing the portrait, colour prints of the work were made available and began to appear in Federal, State and Local Government Departments, and many schools, hospitals, libraries, church halls and RSL clubrooms throughout Australia. Coloured prints are still advertised, as available today, through The Monarchist League in Australia." 
Details of Sir William Dargie's Life can be accessed at Federation Story.
About Fed Story
Federation Story is a free interactive exhibition at Federation Square and online portal that traces the events, people and ideas that led to Federation. It also celebrates the richly diverse stories and events that have continued to shape our country, our culture and our place in the world. Federation Square welcomes story submission via the online portal.
Media Enquiries:
Ron Smith, Corporate Media Communications, Fed Square - Mobile: 0417 329 201