Media Release
Tuesday, 23 July 2013 10:32
Royal Birth Hits the Big Screen at Fed Square 
The Royal Birth has become big news in Melbourne today with congratulations to the Duke and Duchess of Cambridge celebrating the arrival of their first child being posted on the Big Screen at Fed Square.
The large landmark digital screen measuring ten by six metres with its message of congratulations from Melbournians features a picture of William and Kate.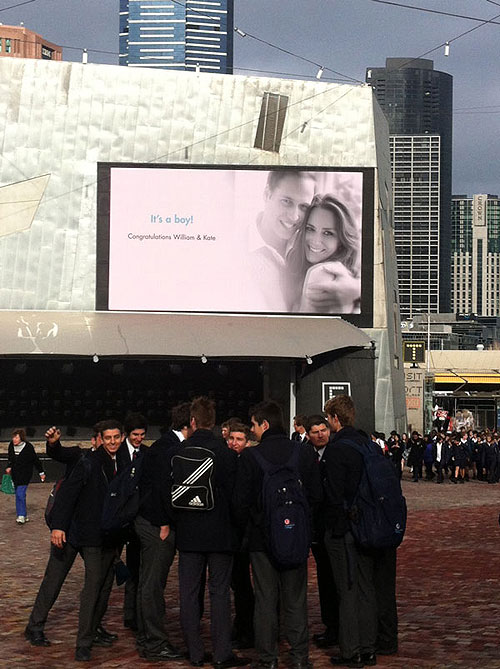 Jane Sydenham-Clarke from Fed Square said visitors to the Square also have the opportunity to celebrate the Royal Birth by using iPhones to photograph themselves in front of the big screen to create a permanent memento of the occasion for their Facebook to be passed on to friends and family.The screenings will take part as the normal run of programs.
Last year Queen Elizabeth visited Fed Square on her tour of Melbourne.
Since opening in 2002, Fed Square has become one of the most visited attractions in Melbourne with close to 10 million visits in 2012.
Media Enquiries:
Ron Smith, Corporate Media Communications, Fed Square - Mobile: 0417 329 201