Media Release
Wednesday, 06 February 2013 11:43
Chinese Dragons will take centre stage at Federation Square on Sunday at lunchtime to celebrate the Chinese New Year.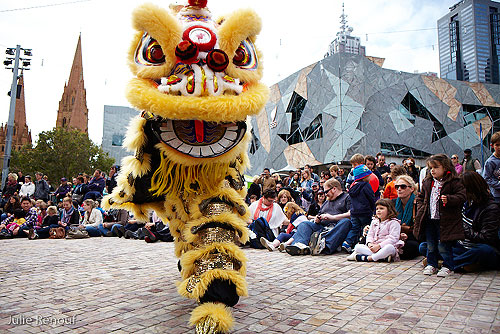 The Hong de Lion Association will perform a traditional dance on the main stage, before visiting each gallery, restaurant and shop at Fed Square to gift them with a ritual blessing for the coming year.
Jane Sydenham- Clarke from Fed Square said, "The Big Screen would play a special role this year by linking celebrations in nationally".
Fed Square will also connect live with Northbridge Piazza in Perth for Chinese traditional festivities via the Big Screen.
This inaugural Chinese New Year event will connect audiences between the two cities, with Lion Dancing and Tai Chi demonstrations in Perth and demonstrations of Tai Chi and Qigong in Melbourne.
Ms Sydenham-Clarke said the event provides an opportunity to celebrate Chinese culture and further develop our appreciation and understanding of our Chinese communities.
The celebrations at Fed Square commence on the eve of Chinese New Year with a free screening of the cult classic Hong Kong comedy, All's Well, Ends Well on Fed Square's Big Screen.
Also on the eve, China Central TV's Spring Festival Gala (Chun Wan) will broadcast live on the Big Screen from 11pm. Watched by more than 700 million viewers, the Gala is one of the biggest TV events in the world.
On Sunday throughout the day, highlights from the Lumens Festival - a contemporary photography and video art festival - on the Big Screen. The highlights are curated by RMIT University and feature work of artists from Victoria and Suzhou, Jiangsu.
Chinese Film Screening, Saturday 9 February, 7pm, FREE
Live Broadcast CCTV Spring Festival Gala, Saturday 9 February, 11pm, FREE
Lion Dancing, Sunday 10 February, 12pm, FREE
Live Cross with Perth, Sunday 10 February, 4pm - 6pm, FREE
Lumens Festival Screenings, Sunday 10 February, various times, FREE
Media Enquiries:
Ron Smith, Corporate Media Communications, Fed Square - Mobile: 0417 329 201