Media Release
Thursday, 22 November 2012 09:59
Scarecrow Building Rally at Fed Square Pop Up Patch
12 noon Sunday 25 November 2012
Fed Square Car Park Roof
(access via Russell Street Extension)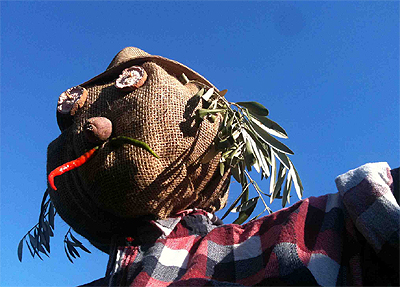 An army of scarecrows will be built at Fed Square this Sunday in the launch of the Fed Square Pop Up Patch's summer programs.
Fed Square's car park roof has been transformed into a vibrant veggie garden with plots available for rent. Over the summer season Patch renters, green thumbs and novice gardeners can join a program activities including Scarecrow making.
Pop Up Patch operator, Fabian Capomolla from the Little Veggie Patch Co said, "We are looking for any urban farmers who have expertise in Scarecrow building. We are out to build a range of bright and highly visible Scarecrows which will become a feature of the Pop Up Patch."
Pop Up Patch subscribers from the city will also join in the launch of the program, which includes edible garden workshops for kids and adults.
Mr Capomolla said, "The sharing of ideas and information and also the opportunity to pass on life skills of veggie growing and the concept of eating healthy foods to children is also part of the overall theme of the Pop Up Patch."
Media Enquiries:
Ron Smith, Corporate Media Communications, Fed Square - Mobile: 0417 329 201
About:
The Pop Up Patch is made-up of 156 do-it-yourself veggie plots housed in individual recycled apple crates - the majority which can be leased by city dwellers who wish to grow their own fresh produce but do not have the space or know-how to do so in their own homes.
It also features a display veggie garden, edible gardening shop and information centre for the public and schools.
The Pop Up Patch operates seven days a week to provide information onsite that will be complemented by an online program. It will become one of Melbourne's most accessible veggie patches with over 9 million visitors to Fed Square annually.
Twitter: @Fed_Square @LittleVegPatch #PopUpPatch
Facebook: fedsquare.com/facebook   facebook.com/littleveggiepatchco