Media Release
Thursday, 25 October 2012 16:42
On the eve of its 10th Birthday, Fed Square began its celebratory weekend, marking the occasion with cake shared with over a hundred children.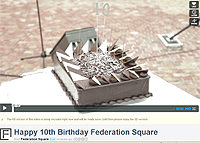 Click here for the Fed Square 10th Birthday Video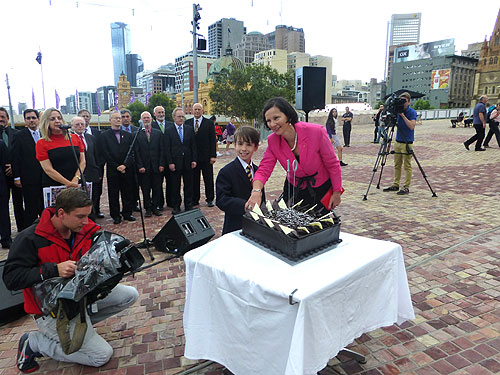 Declan Edwards cutting the Fed Square 10th birthday cake with Catherine Walter AM, Chair of Fed Square
along with Kate Brennan, Chief Executive, Fed Square plus choral group Men in Suits.
Kate Brennan, Chief Executive of Fed Square said, "Since opening on 26 October 2002, Federation Square has become the civic and community heart of Melbourne."
Ms Brennan said, "In the last 10 years there have been more than 80 million visits to the precinct and close to 17,000 public activities, 80% of which have been free to the public". During this time Fed Square has also received more than 40 awards for design and community contribution.
"Fed Square provides a major showcase for established and emerging Australian artists and the birthday celebrations will be no exception - the free concert on Saturday will feature top Aussie acts Stonefield and Animaux."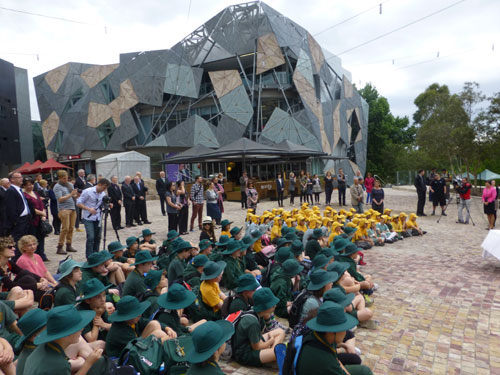 Over 100 students from St Johns Primary School, Footscray West and Chatham Primary School
in Surrey Hills joined in the Fed Square 10th Birthday celebrations.
This morning members of Stonefield performed an acoustic preview and choral group Men in Suits performed for the celebrations.
The 10th Birthday cake was cut by ten-year-old, Declan Edwards from the National Boys' Choir - a choir that performed during Fed Square's opening in 2002.
The cutting of the Fed Square 10th Birthday cake kicked off the extended weekend of free Birthday events, concerts and activities for the whole family.
Fed Square Statistics
More than 80 million visits since opening
More than 2000 activities in the public spaces annually
Hall of Fame - Victoria's Major Tourist Attraction
40 awards for design, construction and operation
40 businesses and over 1500 staff and volunteers in the precinct
Opened October 2002 - turning 10 in 2012

Media Enquiries:
Ron Smith, Corporate Media Communications, Fed Square - Mobile: 0417 329 201