Media Release
Thursday, 27 September 2012 10:40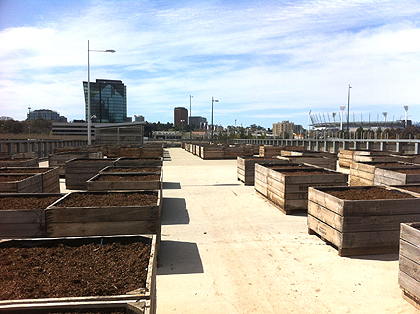 Fed Square Pop Up Veggie Patch

Fabian Capomolla from the Little Veggie Patch Co said, to date all of the people or couples who have subscribed to the Fed Square Pop Up Veggie Patch live close by within the CBD and saw their monthly subscription as adding a unique social and quality lifestyle activity that could be shared with friends and visitors all year round.
"The concept of having a Veggie Patch in the centre of the city we believe will become more popular as people experience and observe the progress of the Fed Square Pop Up Veggie Patch which is now being promoted to body corporates as a service they can offer tenants.
"Major corporations, through their human resources areas, could use the Veggie Patch as an activity for team building and developing gardening skills for employees."
Mr Capomolla said, "The hi-profile of Federation Square, with around ten million visitors a year, and the fact that the Fed Square Pop Veggie Patch will be highly visible to hundreds of drivers entering the carpark each day provides a unique opportunity to promote the health, food and social benefits of growing vegetables.
"The annual subscription of the Fed Square Pop Up Veggie Patch costs approximately the same as a coffee a day, and provides subscribers their own veggie patch, expert advice and training from Little Veggie Patch Co as well as seasonal seed packs, a copy Little Veggie Patch Co gardening book, access to the Pop up Patch tool shed and exclusive online content."
Fed Square Car Park Roof
Opening Hours: The Pop Up Patch will open during October, FREE ENTRY
More Info: www.popuppatch.com
Twitter: @Fed_Square @LittleVegPatch #PopUpPatch
Facebook: fedsquare.com/facebook
Media Enquiries:
Ron Smith, Corporate Media Communications, Fed Square - Mobile: 0417 329 201