Media Release
Wednesday, 29 August 2012 11:03
From Concrete to Carrots
Fed Square's car park rooftop is to be transformed into a vibrant veggie garden to promote the benefits of one of Australia's most favourite and talked about past times.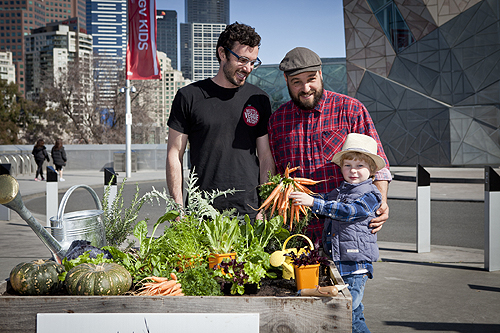 Left: Mat Pember, Fabian Capomolla and Jack enjoying a Fed Square Pop Up Patch.
Photography: Marcel Aucar 

The Fed Square Pop Up Patch, is a joint initiative by Fed Square and the Little Veggie Patch Co, a Melbourne based company which specialises in helping people grow vegetables in small areas.
Kate Brennan, CEO of Fed Square said, "The Fed Square Pop Up Patch is another great addition to a series of events and activations that take the food experience at Fed Square to the next level."
The Fed Square Pop Up Patch through its community demonstration veggie garden, shop and information centre for the public and schools is another great addition to Fed Square catering for gardeners of all ages who visit Fed Square.
The Fed Square Pop Up Patch will operate seven days a week to provide information onsite that will be complemented by an online program. It will become one of Melbourne's most accessible veggie patches with over 9 million visitors to Fed Square annually.
Little Veggie Patch Co owners Mat Pember and Fabian Capomolla said, "The Pop Up Patch project at Fed Square provides a unique opportunity to provide visitors to Fed Square with an opportunity to introduce children to having fun and enjoying the full range of activities from gardening, harvesting, preparing food and, of course, eating fresh produce."
"The sharing of ideas and information and also the opportunity to pass life skills of veggie growing and the concept of eating healthy foods to children is also part of the overall theme of the Pop Up Patch."
The Fed Square Pop Up Patch will be made-up of 176 do-it-yourself veggie plots housed in individual recycled apple crates - the majority which can be leased by city dwellers who wish to grow their fresh vegetables, but who do not have space in their apartments.
More Info: www.popuppatch.com
Twitter: @Fed_Square @LittleVegPatch #PopUpPatch
Facebook: fedsquare.com/facebook
Media Enquiries:
Ron Smith, Corporate Media Communications, Fed Square - Mobile: 0417 329 201