Media Release
Thursday, 19 January 2012 14:14
Thousands of people receiving citizenship certificates on Australia Day are being invited to celebrate the occasion by sharing their personal stories of life in Australia online as part of a permanent free public multimedia exhibition, The Federation Story at Fed Square.
As part of the Australia Day Celebrations Fed Square will also screen images from Michel Lawrence's All Of Us exhibition which features the faces of 55 people who have migrated to Australia each from a different country.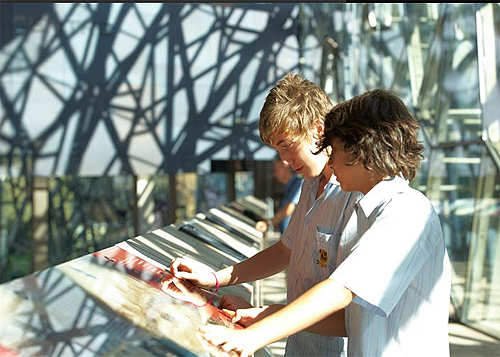 The Federation Story at Fed Square
"My Australian Story" provides people including those receiving citizenship next week to reflect on the events and experiences that have been important to them, their family history and life in Australia.
People can upload text and images online at www.fedsquare.com/mystory and see their stories brought to life in the interactive exhibition located at Fed Square.
Jane Sydenham-Clarke, spokesperson for Fed Square said, "The Federation Story will become a very special public record of the thoughts, aspirations and achievements of Australians, whether they're from the city, the suburbs or the bush."
Share your story at www.fedsquare.com/mystory
The Federation Timeline www.federationstory.com/timeline.html
My Australian Story
Submissions open 12 - 26 January 2012
Media Enquiries:
Ron Smith, Corporate Media Communications, Fed Square - Mobile: 0417 329 201