Media Release
Thursday, 12 January 2012 11:42
To celebrate Australia Day, Fed Square are inviting people to share their personal stories of life in Australia as part of the free public exhibition, The Federation Story.
In celebration of Australia's rich history and diverse cultures, My Australian Story will see members of the public reflecting on the events and experiences that have been important to them, their family history and life in Australia.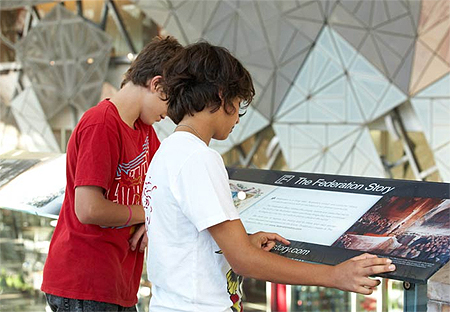 The Federation Story at Fed Square

People can upload text and images online at fedsquare.com/mystory and see their stories brought to life in the interactive exhibition located at Fed Square.
Submissions open on 12 January 2012 and can be viewed at Fed Square from 26 January 2012.
The Federation Story traces the years leading up to Federation in 1901 and explores the events and issues that have continued to shape our country via the experiences of ordinary Australians.
As part of the Australia Day Celebrations Fed Square will also screen images from Michel Lawrence's All Of Us exhibition which features the faces of 55 people who have migrated to Australia.
Jane Sydenham-Clarke, spokesperson for Fed Square said, "The Federation Story will become a very special public record of the thoughts, aspirations and achievements of Australians, whether they're from the city, the suburbs or the bush."
Ms Sydenham-Clarke said, "Once Australians from all walks of life have recorded their stories they will become part of the free, permanent exhibition at Federation Square."
Share your story at www.fedsquare.com/mystory
The Federation Timeline www.federationstory.com/timeline.html
My Australian Story
Submissions open 12 - 26 January 2012
Media Enquiries:
Ron Smith, Corporate Media Communications, Fed Square - Mobile: 0417 329 201