Media Release
Friday, 30 December 2011 15:14
The Acting Premier, Minister for Police and Emergency Services Peter Ryan today had some help in drumming up support for Melburnians to have a happy and safe New Year's Eve celebrations. 
Announcing the New Year's Eve arrangements in the city with Police Command at Fed Square this morning, the Acting Premier was joined by D² Drumline, one of the main acts in the line-up of free entertainment on New Year's Eve at Fed Square.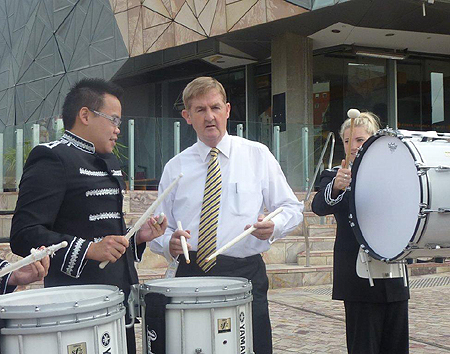 The Acting Premier Peter Ryan was joined by D² Drumline members
(left) Stephen Liew and Chloe Dempsey at Federation Square this morning.
Kate Brennan, CEO of Fed Square said, "This New Year's Eve will cap off a major year for Fed Square with a free gala night of entertainment that will bring the number of visitors to Fed Square in 2011 to over nine million as it heads towards the start of its 10th Birthday in 2012.
"The Fed Square party starts at 8pm with percussion ensemble, D² Drumline, whose enthralling grooves and dazzling stick tricks will set the scene for a night of funky beats guaranteed to get the whole family up on their feet.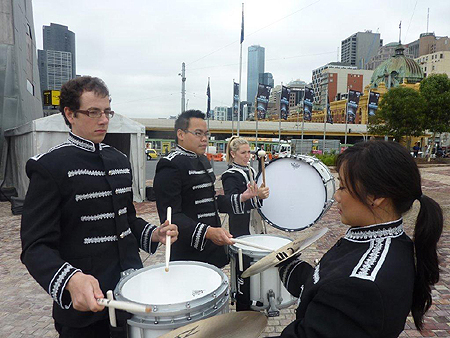 D² Drumline percussion ensemble (left) Campbell Phillips, Stephen Liew,
Chloe Dempsey and Kimberly Wong playing at Federation Square.
"A combination of Brazilian music, Indigenous folk music, roaming Scottish pipers and drummers, rootsy soul singing and high energy dancers will entertain families in a safe environment with the Main Square being alcohol and glass free."
Ms Brennan said, "Fed Square, since its inception, has become the people's square and a major meeting place and on New Year's Eve provides a special focal point for around 100,000 people who pass through Fed Square during the evening.
"At midnight fireworks will erupt from city rooftops making Fed Square one of the best spots to enjoy the breathtaking display."
"Melbourne is a wonderful city with plenty on offer, and Federation Square is an iconic backdrop for these festive celebrations, promising an exciting program to welcome in the New Year," Mr Ryan said.
"New Year's Eve is a time to celebrate with family and friends, but it is also a time to drink sensibly and respect yourself and others.
"So let's bring in the New Year by enjoying the festivities responsibly."
Federation Square is an alcohol and glass-free zone to ensure safe celebrations for everyone.
The entire program will be broadcast live on two Big Screens.
Program:
8pm- D² Drumline open the celebrations with a spectacular drumming routine on the Main Stage
8.10pm- A breathtaking mix of roots and soul by songstress Deline Brisco
9pm - Capoeira performers wow the crowds with a display of this incredible Brazilian art-from
9.20pm - Scottish Pipers rove through the Square
9.50pm - High energy dancers & DJ Mz Risk
10.20pm- Lively Melbourne six-piece, Chunky Jam rock the stage, with everybody's favourite party tracks.
11.45pm - The countdown to Midnight begins
12.00am - City Fireworks
12.10am - Chunky Jam opens the New Year with Auld Lang Syne and finish with an acoustic set.
12.30am- Event Closes.
Media Enquiries:
Ron Smith, Corporate Media Communications, Fed Square - Mobile: 0417 329 201