Media Release
Wednesday, 21 December 2011 15:33
Over 1500 SMS messages of support from friends and fans of Molly Meldrum have started to flow on to the Big Screen at Federation Square.
The text messages appeared on the screen and will be provided to the hospital in a gesture of public support.
First messages of support included one from the Premier of Victoria which said "There's only one Molly Meldrum...all the best Molly - get well soon. We're with you all the way!" - Ted Baillieu.
And another from Molly's beloved Saints "Keep fighting Molly. You're a great Saint and a great friend to many at the Club." - St Kilda Football Club.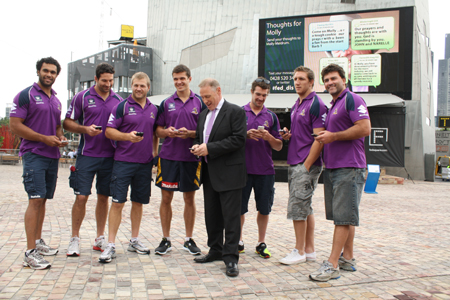 Melbourne Storm send messages of support to Molly at Fed Square.
Left: Justin O'Neill, Bryan Norrie, Ryan Hinchcliffe, Matt Duffie, Ron Gauci CEO,
Anthony Quinn, Ryan Hoffman and Robbie Kearns
Photography: Georgia Baynes-Smith
 Melbourne Storm CEO Ron Gauci and six Melbourne Storm players and Club Ambassador Robbie Kearns attended the launch of the Fed Square SMS campaign this morning.
Jane Sydenham-Clarke spokesman for Fed Square said, "Since the announcement of the Fed Square SMS program interest has continued to build.
The Big Screen at Fed Square enables the collective voice of the people of Melbourne to be sent to one of our most loved personalities - Molly Meldrum - wishing him a speedy recovery."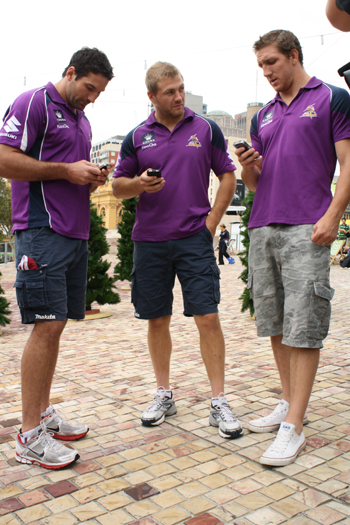 Storm players send Molly 'get well messages' to the Big Screen at Fed Square. 
Left:  Bryan Norrie, Ryan Hinchcliffe and Ryan Hoffman
Photography: Georgia Baynes-Smith 
Statement from Mark Klemens Molly's Manager.
"Molly's family have been overwhelmed by the support from so many people from Melbourne, the rest of Australia and internationally over the past few days. It has and continues to be a tough time for us all as we wait in hope that Molly gets through it all. Equally his family are humbled by this sign of support right in the heart of Melbourne. Molly has a soft spot for Fed Square and is so passionate about this town and his sport and I know would be equally humbled by this outward and impressive expression of support. On his behalf I say thank you."
Media Contact:
Ron Smith, Fed Square - Mobile: 0417 329 201