Media Release
Tuesday, 20 December 2011 10:03
Friends and fans of Molly Meldrum have been invited to show their support for the much-loved Melbourne identity by sending an SMS to the Big Screen at Federation Square.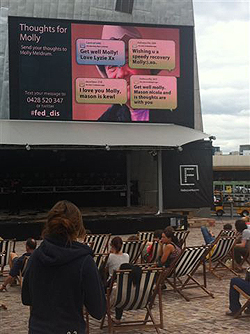 The Big Screen at Fed Square 
The text messages will appear on the screen and be provided to the hospital in a gesture of public support.
The SMS Molly Support initiative will be launched on the Big Screen at Fed Square on Wednesday 21 December at 11.00am
Fans and supporters are invited to send an SMS to 0428 520 347 between 9am - 12.30pm on Wednesday.
Jane Sydenham Clarke spokesman for Fed Square said, "The Big Screen at Fed Square enables the collective voice of the people of Melbourne to be sent to one of our most loved personalities - Molly Meldrum - wishing him a speedy recovery."
Fans and supporters are invited to send an SMS to 0428 520 347 between 9am - 12.30pm on Wednesday.

NB SMS Short Message Service has now been changed to Serious Molly Support


Media Alert

11.00am Wednesday 21 December 2011
Fed Square Screen Support for Molly

Main Stage, Federation Square


Media Contact:
Ron Smith, Fed Square - Mobile: 0417 329 201