Media Release
Thursday, 08 December 2011 15:32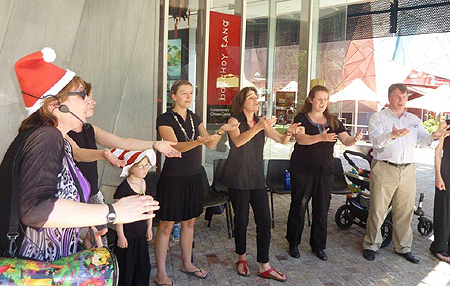 The Hearts in Harmony Community Choir
Details were announced today by Fed Square and Salvation Army with the assistance of The Hearts in Harmony Community Choir a multicultural, multi-faith and intergenerational choir and sing a range of songs from simple rounds to jazz and world music, incorporating movement, actions, Auslan signing and improvisation.
Joe Norster from 'these are The Projects we do together (The Projects)' who have created the Fed Square 'In the Pines' Christmas installation said, Christmas Day for many people was a time when people, either through distance or circumstance, were isolated from families and friends.


 'In the Pines' at Fed Square

The staging of an informal picnic at Fed Square provides a special experience in the heart of Melbourne on Christmas Day.
Major Brendan Nottle, Commanding Officer of The Salvation Army said, as part of the orphans and exiles Christmas lunch the Salvation Army will bring joy and Christmas cheer to a special group within the community who often spend this special day alone.

Fed Square Christmas Picnic
12.30pm Sunday 25 December 2011
Location: Main Square, Fed Square
Cost: Bring your own hamper
Registrations: via This e-mail address is being protected from spambots. You need JavaScript enabled to view it by 20 December 2011
Bring your picnic hamper.
Spaces are limited so registration is required.
Please note that alcohol is not permitted in public areas of Fed Square.

Media Enquiries:
Major Brendan Nottle, Commanding Officer of The Salvation Army - Mobile: 0433 164 502
Joe Norster, The Projects - for comment 'In The Pines' - Mobile: 0422 221 072
Ron Smith Fed Square - Mobile: 0417 329 201