Media Release
Thursday, 08 September 2011 10:32
Paul Carter, the internationally acclaimed author and artist who embedded the stories of the beginnings of Melbourne and its people in the cobblestones of Melbourne's most popular location Fed Square, has now combined with Australian Filmmaker Dirk de Bruyn and dancer Soo Yeun You to add another dimension to the original work.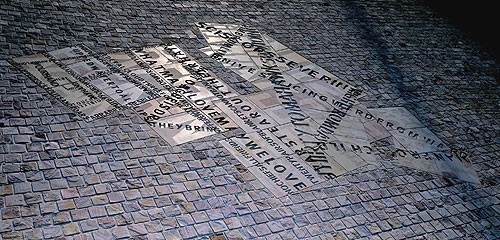 Called OPENING, a 37 minute film to be shown on Fed Square's Big Screens, explores the creative region of the Mallee connecting the spirit of this much loved area to Fed Square.
OPENING brings together single frame and time lapse techniques, real-time footage, environmental recordings and choreography.
Dancing through the film Soo Yen You assumes the character of Red Sadie, a character penned by one of Australia's most loved poets John Shaw Neilson, with performances immersed in images from the deserted main street of the Mallee township Sea Lake at night, Lake Tyrrell, the largest lake in Victoria and Fed Square.
Paul Carter said, Fed Square, which has now had 70 million visitors from its beginning, has become Melbourne's most important location of storytelling and the sharing of experiences through the hundreds of events and performances held in the Square each year.
"OPENING is collaboration between three migrants about finding and making a place for themselves in a new country and is aimed at providing a link to the existing stories, embedded in the cobblestones of Fed Square."
"This special project brings to life the history, land, design and community of Fed Square."
"It will transport you through the curving path that spirals out to Lake Tyrrell in Northern Victoria and whirls back to Fed Square."
Launch:
Friday 9 September, 6.30pm - 9pm, Big Screen and the Atrium Screen

Screenings:
Every Friday 16 September - 7 October, 6.30pm, the Atrium Screen
OPENING is an initiative of the Centre for Memory, Imagination and Invention, Faculty of Arts and Education, Deakin University in collaboration with Fed Square's Creative Program.
The Clip of OPENING is available here: www.vimeo.com/fedsquare/opening
The password is: f3dpaulcarter
For more information or an interview with Paul Carter please contact:
Ron Smith, Corporate Media Communications, Fed Square - Mobile: 0417 329 201

The Artists
Paul Carter is a highly acclaimed author, artist and interdisciplinary scholar. He is the Creative Director of Material Thinking, Foundation Chair in Creative Place Research, Director of Deakin Creative and Acting Director of Centre for Memory, Imagination and Invention at Deakin University. His publications, which include Ground Truthing (2010), are a unique contribution to our understanding of the relationship between place-making and creative research.
Dirk de Bruyn is an Australian filmmaker who has made numerous experimental, documentary and animation films and videos over the last 30 years. He was a founding member and past president of MIMA (Experimenta) and has been a member of Melbourne Super 8 Film Group. He is currently teaching Animation and Digital Culture at Deakin University.
Soo Yeun You trained in Korean traditional dance in Korea. She has performed at the Lincoln Centre, New York, the American Museum of Natural History and Battery Park, and toured in Canada and Spain. Immigrating to Australia on a 'Distinguished Talent' visa in 2002 she has a Post-Graduate Diploma of Choreography from VCA, University of Melbourne and completed a Master of Choreography there in 2010.
OPENING is an initiative of the Centre for Memory, Imagination and Invention, Faculty of Arts and Education, Deakin University in collaboration with Fed Square's Creative Program.

Further information see http://www.materialthinking.com.au