Media Release
Thursday, 02 June 2011 13:39
Tens of thousands of footy fans who pass through Fed Square on the way to the MCG will be able to relive past glories with the FREE screening of classic matches either in the Atrium undercover or on the Big Screen.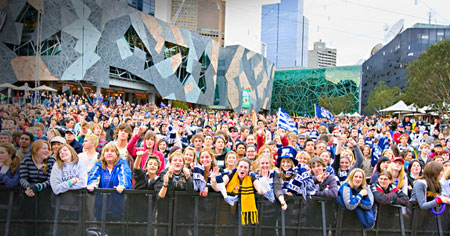 Kate Brennan, CEO of Fed Square said the matches will be screened prior to the matches at the MCG providing football fans the opportunity to relax over lunch or dinner with friends and other fans in a special build up to the game.
Fans will also be able to get a PRE TASTE of the game
 Beer DeLuxe: 'Dermot Burger' with a glass of Bruer's Bright at the Hamburger Bar
 Grandstand Hot Dogs: Classic Hot Dog and a 600ml Cool Ridge Water
 ACMI Lounge: Homemade cheeseburger served with fat chips
Federation Square is family orientated and has a no alcohol policy in its public space areas.
*Please note that screening times may change in the event of unexpected event activity.
Media Enquiries:
Ron Smith, Corporate Media Communications - Mobile: 0417 329 201
Classic AFL Clashes - Screen Program
Date & Time 

Classic Match 

Screen 

Why iconic? 

4.45pm Friday 3 June 2011 

Essendon vs Melbourne, Preliminary Final, 2004 

Atrium Screen 

Essendon v Melbourne, Elimination Final, 2004, Essendon led by 29 points at half-time, Melbourne came back to lead by eight points at ¾ time, Essendon won a thriller by five points with a late goal by David Hille off the ground. James Hird was knocked out early but played on, it was Troy Broadbridge's final AFL game. 

4.00pm Saturday 4 June 2011 

Collingwood vs St Kilda, Round 19, 2008 

Atrium Screen 

 

Collingwood v St Kilda, round 19, 2008: it was 7th v 8th on the ladder, Collingwood led all game, Collingwood led by 26 points at ¾ time, St Kilda came back with five last quarter goals to get close, but not close enough, losing by 14 points. 

10.00am Sunday 5 June 2011 

Hawthorn vs Freemantle, Round 8, 2004 

Big Screen 

Hawthorn v Fremantle, round 8, 2004: at Aurora Stadium, a close game from start to finish, low scoring, Fremantle led at the first change, Hawthorn at half time and by just 13 at ¾ time. The Dockers threatened in the final quarter but Hawthorn held on to win by nine points. 

4.00pm Saturday 11 June 2011

Geelong vs Hawthorn, Finals, 2008 

Atrium Screen 

Geelong v Hawthorn, grand final, 2008: The Cats went into the Grand Final with 23 wins and just one loss for the season against the second placed Hawthorn; the Cats led narrowly at the first change before the Hawks snuck in front at half time. Geelong's inaccurate kicking proved their downfall, 6.12 by half time and Hawthorn took advantage, kicking 10 goals to five in the second half to win by 26 points. 

10.45am Sunday 19 June 2011

Melbourne

vs Fremantle,

TBC

Atrium Screen 

 

4.45pm Friday 24 June 2011 

Hawthorn vs Essendon, Round 13, 2010 

Atrium Screen 

 

Hawthorn v Essendon: round 13, 2010: 8th v 10th on the ladder, it was a Friday night blockbuster, 54,148 fans at the MCG. Hawthorn led by 23 points at half time, Essendon reduced the margin to 6 by the final change, and hit the front early in the last quarter before Lance Franklin kicked two brilliant running goals from the boundary line, one which would be goal of the year.