Media Release
Tuesday, 28 December 2010 16:00
31 December 2010, 8pm - 1am, All Ages, FREE
Fed Square, Melbourne's favourite spot for New Year's Eve celebrations, is set to drum up a dancing storm  to the sounds of Tumbarumba and the Hit Parade, with a FREE program of reggae, funk and classic tracks.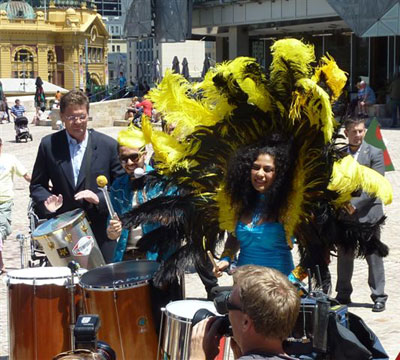 Left: Victorian Premier, the Hon. Ted Baillieu, Mauro Coiro and Neda Rahmani at Federation Square today to preview the New Year's Eve entertainment.
Fed Square's New Year's Eve party kicks of  at  8.00pm with Melbourne band, Tumbarumba whose sizzling fusion of samba, reggae, funk and Brazilian beats have seen them share a stage with the likes of Paul Kelly, Clare Bowditch, Gotye and Blue King Brown.
With roots in the street music of Brazil and the rhythms of an Australian Samba School, Tumbarumba will set the scene for a night of funky beats, guaranteed to put rhythm in your feet.


The fun continues from 8.30pm when Funk Junk take over the stage with a high-energy drumming set and drums are distributed to the crowd for a live jam session, before the family fireworks over Yarra Park at 9.15pm.
As the clock winds down,The Hit Parade will rock the stage with everybody's favourite party tracks with everything from Michael Jackson and Robbie Williams to Rihanna and Kings of Leon.
At midnight fireworks will erupt from the rooftops at Fed Square, making it one of the best spots to enjoy the city's breathtaking fireworks display.
The entire program will be broadcast live on two Big Screens. 
The Main Square is an alcohol and glass-free zone to ensure safe celebrations.
For further information visit: www.fedsquare.com
Media Enquiries:
Ron Smith, Corporate Media Communications, Fed Square - Mobile: 0417 329 201