Media Release
Monday, 20 December 2010 15:46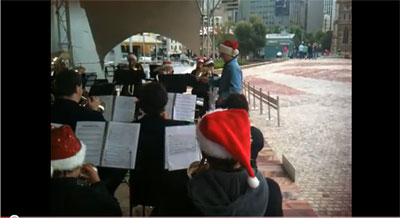 Click here to view the YouTube performance
The thirty member Victorian State Youth Brass Band at Federation Square in Melbourne is on target to play 1200 Christmas carols  non stop to create a world record.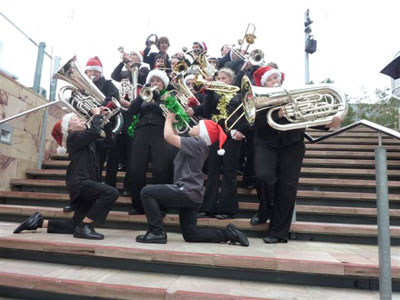 T

he Victorian State Youth Brass Band playing on the steps at Federation Square


The Band has released its world record attempt on You Tube and is hoping to get to meet Susan Boyle when they play in
London
in 2011.

The Band, with members aged from 10 to 25 years, is playing Christmas Carols in order to raise awareness of a major European Tour in 2011 with the Marathon 'Play-a-thon' on Monday 20th December and Tuesday 21st December.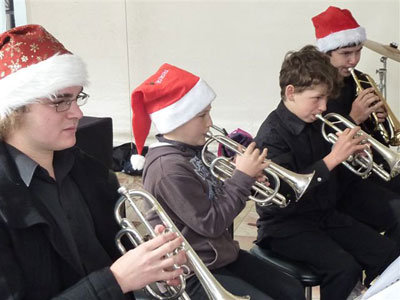 Younger members of the Band playing at Federation Square
Battling cold weather the Band commenced  the world record attempt at 7.00am this morning.

In 2011 the Victorian State Youth Brass Band will be travelling to Europe where they will be performing in many of Europe's best concert halls, parks and venues. The Band will visit Germany, Belgium, UK, France, and Austria whilst passing through many of the other neighbouring countries.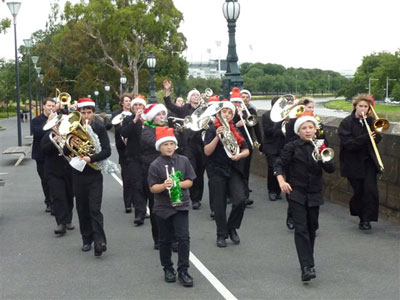 The Victorian State Youth Brass Band
The Victorian State Youth Brass Band

is an organisation which helps improve the level of performance of some of the best young brass musicians 
from Victorian Regional and Metropolitan Brass Bands in
Victoria
, under the leadership and direction of professional musicians.


Media Enquiries:
Live crosses to the Band can be made by calling:
Michael O'Sullivan, Representative, Victorian State Youth Brass Band - Mobile: 0438 551 833 at any time.
Ron Smith, Corporate Media Communications, Fed Square - Mobile: 0417 329 201