Media Release
Friday, 03 December 2010 15:35
Major Brendan Nottle, Commanding Officer of The Salvation Army said, "in the current tough economic times where many families are battling to balance the budget, the services of The Salvation Army are under increasing demand."

Brendan Nottle said, "the 'Melbourne Way' campaign reflected the culture of Melburnians as a generous community when people were in need, and a community which had a history of coming together in the face of adversity".
"Through the 'Melbourne Way' campaign we are also asking people if they see anyone who needs help in the public areas of Melbourne, just to check if they are alright or if they need assistance from appropriate authorities."
Shane Mitchell, who headed the campaign for the declaration of a Good Samaritans Day in the Victorian calendar following the death of his brother Luke, joined with the Salvation Army to launch the need for people to assist others who may be trouble.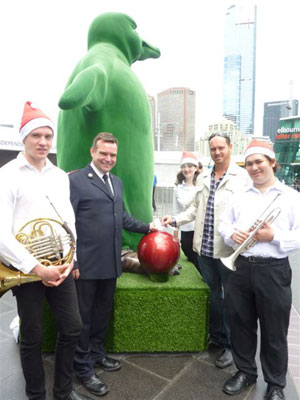 The Salvation Army Band and Commander Major Brendan Nottle (left) with Shane Mitchell placing a wish in the Green Wishing Penguin's egg.


Media Enquiries:
Ron Smith, Corporate Media Communications, Fed Square
Mobile: 0417 329 201