Media Release
Monday, 30 August 2010 10:35
To celebrate Melbourne's 175th birthday, school children are invited to submit their personal stories of life in Melbourne to the free online exhibition at Federation Square. 
http://www.federationstory.com/
The Knox School students (left) Allegra from Slovenia and Brody from Germany at the Federation Story touch screen.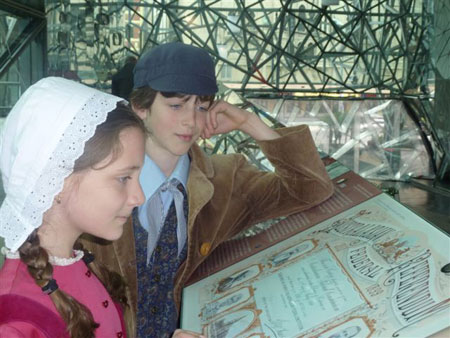 Students have been invited to reflect on "What makes you proud to be Australian?" and "What do you like about living in
Melbourne
?"
Through the creative online prompts, students can upload text and images to capture and share their thoughts in a contemporary digital community.
This morning, students from three school communities will gather to share and celebrate their stories at Fed Square.  Participating schools are:  The Knox School, Wantirna South; Bethany Primary School, Werribee; and Solway Primary School, Ashburton.
The youth choir from The Victorian College of the Arts Secondary School will contribute to the celebrations with a live performance of Australian music.  Their chosen songs incorporate indigenous text from the Victorian Wemba Wemba people, and text by Michael Leunig.
The website also captures the history of Australia from prior to the first landing of white settlers including the Federation period when the states were joined to create the Australian Nation.   
Schools from all over Victoria are being invited to take part in the project.  
Kate Brennan CEO of Fed Square said, "The Federation Story will also become a very special public record of the thoughts, aspirations and achievements of school children everywhere."

Ms Brennan said, "once students have recorded their stories they will become part of the free, permanent exhibition at Federation Square."

Tell your story at http://www.federationstory.com
The Federation Timeline http://www.federationstory.com/timeline.html
Monday August 30, 2010, represents a milestone in Melbourne's history, marking 175 years since the city's founding - the day the first European settlers landed on the north bank of the Yarra River from the schooner Enterprize in 1835.


Media Enquiries:
Ron Smith Corporate Media Communications Fed Square Mobile: 0417 329 201