Media Release
Thursday, 05 August 2010 14:55
Munari Wines, a family-run winery in the Victorian goldfields at Heathcote, have taken out top honours in the 2010 Fed Square Wine Awards
with Wine of the Year for their 2006 Beauregard Shiraz.

 

Munari Wines also won the Best Shiraz Award for the 2006 Beauregard Shiraz.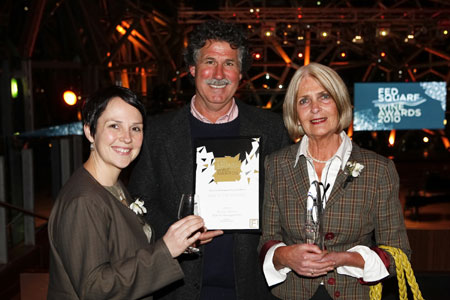 Left: Jaala Pulford, Parliamentary Secretary for Regional and Rural Development and

Industry and Trade, Adrian and Deborah Munari of Munari Wines at the presentation of
the Fed Square Wine of the Year Award.
The awards were held on Wednesday night in the BMW Edge at Fed Square following the judging of forty-five finalists and more than seventy wines by some of Australia's leading wine experts including Ron Leslie, Roy Moorfield, Elizabeth Woods, Victoria Sharples and Ralph Kyte-Powell.
Announcing the Wine of the Year Award Kate Brennan, CEO of Federation Square said, "The Fed Square Wine Awards provide a major opportunity to promote the world class wines of regional Victoria."
Ms Brennan congratulated all the winners for their outstanding achievements in making Victoria one of the best wine producing areas in the world.
The Geelong region featured strongly in Awards, with Moorabool Ridge Winery at Lethbridge winning Best White Wine for a 2004 Semillon. Bellarine Estate was awarded the Best Red Wine for its 2008 "Phil's Fetish" Pinot Noir.
Morris Wines from Rutherglen won the Fortified Wine of the Year for its N/V Old Premium Rare Liqueur Tokay, while Oakridge Vineyards in the Yarra Valley received the Judges' Award for their 2008 Pinot Noir. 
"The awards highlight the diversity of Victoria's wine regions and quality of the state's wine industry," said Ms Brennan.
The award-winning wines and finalists will all be available for tasting at a public showcase in The Atrium, Federation Square on Thursday, 5 August.
The Awards are the culmination of the Fed Square Wine Showcase series, which features a public wine tasting from a different Victorian wine region each month. These monthly showcases were established in 2004 as an initiative aimed at providing regional wineries with an opportunity to promote their wines in a central city location. In the last seven years, more than 70 Wine Showcases have been held, with in excess of 50,000 people attending and 1420 wineries exhibiting.
Joanne Butterworth-Gray, Chief Executive of the Victorian Wine Industry Association, said the Victorian wine industry contributes $1.58 billion to the Victorian economy and is 18% of Australia's wine production.
The Fed Square Wine Showcase series is supported by Regional Development Victoria.
Media Enquiries:
Ron Smith, Corporate Media Communications, Fed Square Mobile: 0417 329 201  
Fed Square Wine Awards Winners
Wine of the Year
Munari Wines 2006 The Beauregard Shiraz
Judges' Choice
Oakridge 2008 Pinot Noir
Best White Wine
Moorabool Ridge 2004 Semillon
Best Red Wine
Bellarine Estate 2008 'Phil's Fetish' Pinot Noir
Best Fortified Wine
Morris Wines N/V Old Premium Rare Liqueur Tokay
Best Chardonnay
Harcourt Valley 2008 Chardonnay
Best Semillon
Moorabool Ridge 2004 Semillon
Best White Blend
2007 Tallis Dookie Hills Viognier
Best Sparkling White or Rose
2008 Don Kinloch Sparkling White
Best Pinot Noir
Bellarine Estate 2008 'Phil's Fetish' Pinot Noir
Best Shiraz
Munari Wines 2006 The Beauregard Shiraz
Best Merlot
Long Gully Estate 2005 Reserve Merlot
Best Cabernet Sauvignon
Harcourt Valley 2007 Cabernet Sauvignon
Best Red Blend
Psyche Wines Pty Ltd 2008 Petit Verdot
Best Tokay
Morris Wines N/V Old Premium Rare Liqueur Tokay