Media Release
Wednesday, 30 June 2010 17:03
A choir of 20 children, all AIDS/war orphans, from Uganda aged 8 – 12 years will bring their message and music to Melbourne in a special performance this Saturday at Federation Square in The Atrium.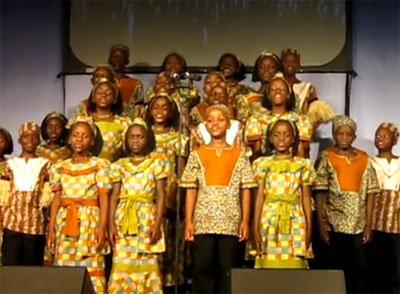 The Watoto Children's Choir
http://www.youtube.com/watch?v=Yi7XqAijzHQ&feature=related (Vision and Music)
The Watoto Children's Choir have travelled internationally since 1994 as advocates for the estimated 50 million children in Africa, orphaned as a result of HIV/AIDS, war, poverty and disease.
Accompanied by a team of adults, the Choir presents Watoto's vision and mission through their stories, music and dance. Watoto Choirs act as ambassadors to raise awareness about the plight of the orphaned and vulnerable children of Africa.
It will also be a special day for one of the Choir's greatest supporters, Detective Sergeant Leigh Thorne from Victoria Police. Leigh heard the Watoto Choir at his local church a few years ago and since then has been a passionate supporter of the cause, going over to Uganda regularly to help build houses and schools.
About Watoto
Watoto is a holistic care program that was initiated as a response to the overwhelming number of orphaned children and vulnerable women in Uganda, whose lives have been ravaged by war and disease. They currently care for more than 2,000 orphans with medical care, housing, food, clothing, schools and counseling/rehabilitation for child soldiers. Orphans find a new home with adults to create a new village, preserving a traditional way of life.
As part of their international tour the Watoto Children's Choir are touring Victoria throughout July, with performances in suburban and regional areas including: Frankston, East Burwood, Warragul, Bairnsdale, Rosebud and Dandenong.
The Watoto Children's Choir
  1.30pm Saturday 3 July 2010
The Atrium, Fed Square
Media Enquiries:
Ron Smith Corporate Media Communications Fed Square Mobile: 0417 329 201