Media Release
Monday, 16 July 2012 16:43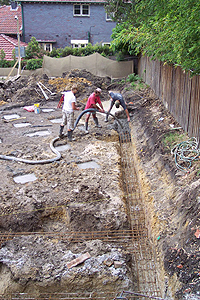 An excavation along a side boundary for foundation works for concrete footings.  
Archicentre General Manager David Hallett said in inner suburban areas often older homes are being demolished to be replaced with townhouses, apartments or one very expensive property built on the land. Many of these redevelopments involve demolition and an extensive deep excavation across a large section of the land to allow for the underground car parking and storage facilities.
"One of the most dangerous times is when deep excavations have taken place on or near a boundary in city and suburban areas and there is heavy rain which can change soil conditions quickly. A major slip may cause financial disaster for both the owner of the property being renovated or built and the neighbour as it can end in a major costly legal dispute involving all parties.
"The current economic climate may also create a major problem when after these deep excavations are created the developer may delay the project because of financial stress."
Mr Hallett said that dilapidation reports record the condition of buildings before work begins to reduce the risk of confusion and the potential for a protracted and expensive legal argument.
"The issue becomes highly relevant when a home with a party wall is demolished. This can leave the remaining home in a perilous condition after the adjacent property is demolished.
"Many of these buildings are older buildings with footings over one hundred years old and are very vulnerable to changes in soil condition especially if there is existing cracking or damage in the property.
Mr Hallett said, "If people are worried about the impact of a proposed major demolition, excavation or construction next door it is sensible to approach the contractor or council about having a Building and Surrounds Report (Dilapidation Survey) carried out before work begins.
"Many builders pay to undertake an Archicentre Building and Surrounds Inspection so that there is a 'before and after' picture of the neighbouring buildings from a recognised industry expert.
"These reports are used to avoid argument as they provide a factual basis and pictorial record of the property."
Mr Hallett said if a court case eventuates the report can be used by developers to ensure they have a correct record of the status of neighbouring properties and also by home owners to protect their interests.
"The reality is that a major court case can often cost more than the repairs or certainly the undertaking of reports which makes it vital to have an accurate picture and report of the state of the building before any demolition or excavation works commence."
Mr Hallett said home owners adjacent to major infrastructure projects such as roads or bridges should request dilapidation reports are carried out on their homes and surrounds to avoid any confusion if damage eventuates from the project so they have supporting evidence for their claim.
"Apart from having the home assessed for pre-existing damage it is also important to have surrounds including driveways and fences assessed which can be expensive to repair."
Check the Archicentre Newsbreak video with Archicentre Architect and General Manager David Hallett on dilapidation reports at http://www.archicentre.com.au/business-services/dilapidation-inspection
Media Enquiries:
Ron Smith, Corporate Media Communications, Archicentre - Mobile: 0417 329 201