Media Release
Tuesday, 19 June 2012 14:28
Vendors fighting for sales in a tough property market with auction rate clearances at just around 60% will be able to show off the renovation potential and value of their homes with a new design service.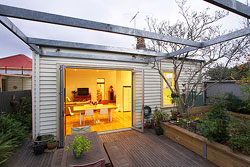 Renovation Design by Architect Cathi Colla
Archicentre is the building design, inspection and advice service of The Australian Institute of Architects and is well known around the country for providing property inspections to home buyers.
To help home sellers, Archicentre has launched a national low fixed price design concept service to add value to vendor's homes by showing potential buyers its true renovation potential with an architect's design concept.
Archicentre General Manager David Hallett said the service would target unrenovated properties which usually have the best renovation potential for owner purchasers and investors.
"It is these properties that have the most potential for capital gain and getting the design right to create a sustainable, well thought through design concept is great way of promoting the hidden potential of the property."
"The design concept can be part of the vendor's sales package being displayed at the auction, on pre-sale internet promotions and display boards to spark home buyer's interest."
Mr Hallett said the Archicentre Renovation Plan will provide potential buyers with a vision for future renovations and the increased appeal of the property.
"The service, which can be booked online, will see Archicentre select an Architect who has experience in the type of home being sold, whether it is a period or a more modern design, to visit the vendor's home and discuss the brief to create a design concept that will maximise the potential of the property for sale."
Mr Hallett said the Archicentre Renovation Plan includes:
 A review of the vendors brief.
 An architect's sketches of the proposed floor plan.
 An opinion of broad construction costs, so the buyers are aware of the potential costs of the project.
Mr Hallett said the Archicentre Renovation Plan is meant to be a stand out point of difference approach to the marketing and selling of homes which places a professional design concept into the buyer's equation.
"For agents it is also a valuable conversation tool as they have a specially prepared design concept which they can talk to prospective buyers about to highlight the properties potential."
Media Enquiries:
Ron Smith, Corporate Media Communications, Archicentre - Mobile: 0417 329 201
.