Media Release
Tuesday, 17 January 2012 14:01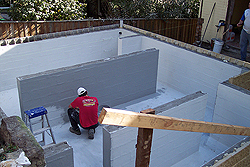 Waterproofing the inside of an underground rainwater tank on a property.
The top of the tank was a concrete slab poured over steel formwork and formed the floor of the garage on the property.
 
These issues will see home owners facing household running cost increases in the next few months that will continue to rise and to generate demand by consumers for "Green" issues to be addressed through innovative design and construction.
Archicentre South Australian State Manager Edward Lukac said, "people buying new homes and those undertaking renovations have a major opportunity to cut their future energy and water costs by running the 'green ruler of sustainability' across their future home or renovation".
"An accurate assessment of the sustainability of an existing home also provides the purchaser with an indication of future energy and water costs and an opportunity to get an understanding of what it would cost to improve its sustainability".
"Buying a lemon these days not only refers to purchasing a property with structural faults but also one with poor environmental credentials."
Mr Lukac said, due to consumer and local government demand Archicentre, whose architects have a combination of design and sustainability skills, has introduced two new sustainability services as people recognise that once the energy and water (money saving) environmental features are built into the design they continue to work day after day for ever.
The Archicentre Sustainable Reports have four categories designed to help renovators, people using a building contractor to build a new home, owner builders and home owners.

Mr Lukac said the service would also provide new home builders and renovators with professional guidelines and information to brief builders and specify requirements in contracts.
"Green design features are also recognised as building value into the property at its time of sale and real estate agents are already promoting the green aspects of property".
"A better use of materials in construction, orientation of buildings to maximise solar energy gain, lessening the use of air conditioners and heaters in homes and offices are all issues which can have a major impact on household bills."
Mr Lukac said, "smart home buyers and renovators recognise the major savings are to be gained at the front end of home purchasing through pre-purchase property inspections and due diligence on the cost of renovating.
"With renovations it is planning the design before committing to major expenditure of detailed designs and construction".
"In both these areas green sustainability issues will hold increasing importance with the introduction of the carbon tax in July."
Passive design features include:
Home orientation and layout
Solar access
Thermal mass
Shading
Natural ventilation
Natural lighting
Building fabric
Energy saving features include:
Heating and Cooling
Insulation
Skylights
Glazing
Hot water system
Water saving initiatives include:
Rainwater harvesting and re-use
Grey water treatment and re-use
Water saving fittings and appliances
Landscaping and pool features
Apart from sustainability one of the bigger issues however, is changing peoples' attitudes to how they manage resources in their homes and workplaces. The simple task of placing a desk near a window in the home office could see natural light being used rather than full time lighting being required, Mr Lukac said.
Archicentre has further information available on sustainable homes at http://www.archicentre.com.au/green-living/sustainable-homes
Media Enquiries;
Ron Smith, Corporate Media Communications, Archicentre - Mobile: 0417 329 201