Media Release
Friday, 04 November 2011 14:52
Australian home buyers, property investors, lawyers and conveyancing companies will now have access to a 24/7 online booking service for all types of property inspections and associated services such as termite inspections conducted by Archicentre.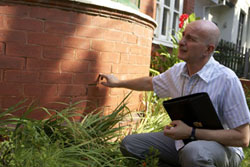 An Archicentre architect inspects the brick wall of a property 
Archicentre Chief Executive Mark Stewart said, "the opening of the 24/7 booking service provides lawyers and conveyancing companies especially with a quick and easy way to book a property inspection with a guarantee of professionally trained registered architects to carry out the inspections."
Mr Stewart said that most people are surprised to learn that in all Australian States and Territories, other than Queensland, literally anyone can do a property or termite inspection, without the need for any qualifications, experience, insurance or even pest or building fault knowledge.
By Archicentre providing the ability to book online, people now have access 24/7 to Accredited Architects and Inspectors, which are the most highly qualified inspection experts with $10 million professional liability insurance and years of industry experience.
Mr Stewart said with the lowering of interest rates, an increase in consumer confidence and more activity in the lower end of the housing market, home buyers should still be prudent and avoid buying a 'lemon' with faults that can be extremely costly to repair.

Many home buyers failed to realise the leverage that a pre-purchase property inspection can provide during negotiations which include:
 Negotiate a better price if hidden defects are found.
 Using the report for future maintenance or renovation plans.


About Archicentre
Archicentre is quality endorsed and wholly owned by the Australian Institute of Architects. The network of Archicentre accredited building experts provides professional and independent building design, inspection and advice services nationally.

With a network of over 800 of Australia's most highly qualified building experts, Archicentre offers a wide range of products for fixed fees. From home renovation and design concepts to property inspections, pest inspections and construction quality assurance inspections, Archicentre provides expert professional advice.

Media Enquiries:
Ron Smith, Corporate Media Communications, Archicentre - Mobile: 0417 329 201